Blog

Congratulations to the Sheraton Hotel Hamilton as they celebrated their 30th Anniversary last evening. The Sheraton provided not only amazing hospitality, but as well an amazing array of various and delicious menu items (both tasty appetizers and full entrees) to each of their guests in attendance.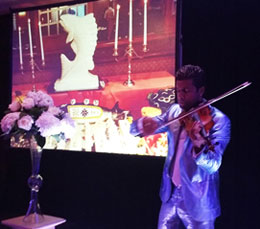 A Gala event with awesome music provided by G Pinto, a Hamilton native (and of course no stranger to the wedding industry) as he remains at the forefront of amazing, wedding music. Words of Thanks were shared to the guest from the Management and Ownership to the many guests for the continued support over these past 30 years.
Dream Wedding Officiants is honoured to serve the Sheraton Hotel, Hamilton and the many couples who celebrate their wedding at this colourful venue. Whether it's in the 2nd floor balcony outdoors, or one of the many ballrooms, the Sheraton know how to decorate and care for each couple's needs. Wedding and Event Manager Antonella Bifano is not only fun to work along side, but excels in providing professional service to her clients every step of the way.
Again, Congrats to the Hamilton Sheraton and Thanks for the privilege of serving and working along side of you in creating some of the most memorable moments in a couple's life!
Why not book us as we serve the Sheraton Hotel in Hamilton to be your Wedding Officiant…