Blog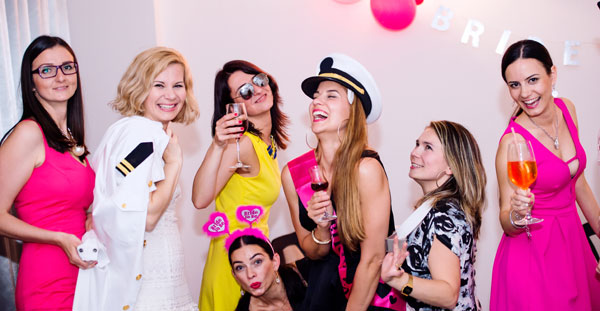 The Maid of Honour is usually the person that plans the Hen Night – the "last hurrah" for the bride as a single girl before she ties the knot. Unless you have a Kardashian budget, a private jet to Las Vegas for 20 of your girlfriends may not be feasible, but you can always have memorable party closer to home. Pick the night and guest list along with the Bride…some bride's will want their Mom there, some won't.
Bachelorette Party
Have the invitations let the guests know the theme so they can dress accordingly. You can do this online through an invite or a private event on Facebook, or the more traditional paper and envelope may suit. It all depends on what kind of event you're organizing. If it's Hats and High Tea, a la Kate Middleton and Ascot, then paper is the only way to go. If it's half a dozen of you going downtown and getting a taxi home with the sunrise, then a text will do nicely!
If you're going out and about to see and be seen, then matching shirts or accessories are a fun way to let everyone know you're together – and helps you stay together in a crowded place. Any outfit goes with flashing bunny ears on a hen night, and so much more chic than matching t-shirts. Some other ideas are going out dressed from a theme like Twilight or Disney characters – restaurants and bars will often give out complimentary drinks to the Hen when's she's dressed up in costume – and to thank her for bringing in friends and drawing attention to their venue.
Once you finish Kindergarten there aren't many opportunities (other than Halloween) to dress up and be really creative and silly. Why not pick a fun theme, something from a favourite movie or book of the bride, and really go all out. Or pick a tropical theme – grass skirts, coconut bikini tops, leis all make for a great party theme and are so much more interesting than just matching tees. If you are staying home you can easily decorate your patio into a Tiki Bar theme – from low budget with Dollarama décor or go high end with a live steel drum band and wait staff to bring you little drinks with tiny umbrellas in them.
The key to a Hen Night is just to have fun…and one of the best ways to do this is to make sure the theme and venue suits the bride and the people in her wedding party. Talk it over together, and then keep a few surprises for the night!