Blog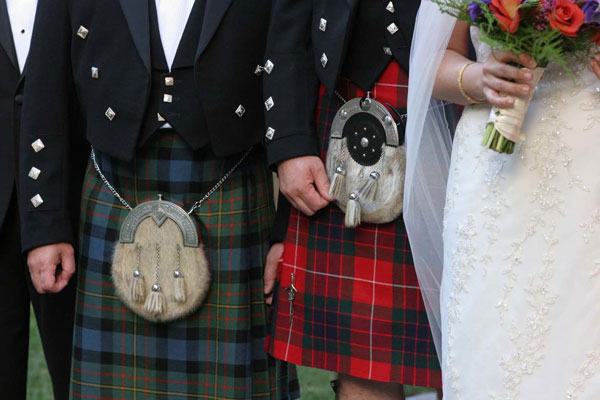 Many Canadians can trace their heritage to Scotland…if you have a "Mac" at the beginning of your name, it's a sure hint that you are, at least, part Scottish. The movie "Braveheart" caused Scots far and wide to look into their heritage, and people…not just those from Cape Breton or parts of New Brunswick, are celebrating their Scottish roots. As wedding officiants, we have had the privilege of serving many Scottish couples and with a doubt have had an amazing time at their wedding ceremonies!
Celebrate Your Scottish Wedding
If you want to add a few Celtic touches to your wedding or have a full "Highland Fling" theme – think Brave meets Hamis McBeth – there are several ways you can do this. Keep in mind 'a few things' can easily turn into a full scale production, so have you and your groom on the same page before you start. If you're both of Scottish heritage, there's no need to hold back.
The national flower of Scotland is the thistle – a pale purple round flower that is less prickly than it's name suggests. The flag of Scotland, called the Saltire, is blue and white, so you could do your colors and flowers in those with plenty of heather as accent pieces. Some suggestions for blue flowers are fressias, lilacs, hydrangeas or delphiniums. Traditional white wedding flowers give you beautiful choice such as roses, orchids and lily of the valley. Having the groommen's buttonholes in heather would be a nice touch. A beautiful archway of flowers made of thistles with heather and hydrangeas would be classic and delightful.
The most Scottish of all symbols is, of course, tartan. The plaid patterns are from various families and clans, and even the province of Nova Scotia (New Scotland) has its own Scottish Tartan. Using a pattern of tartan on your invitations will immediately let guests know your theme. You don't have to over – do it on the paperwork, a simple ribbon of tartan around the edge of the envelope will suffice.
The outfits you choose can reflect the Scottish heritage in a charming and fascinating way. If your man is up to wearing a traditional kilt (let's face it, it's a woolen skirt with a strategically placed purse), then this may be the route to take. If that's a wee bit much, nobody will fault you. Instead of having yourselves in costume, hire the one man who can carry it all off with aplomb, dignity and that extra touch you need…an official bagpiper.
The pipes can lead you into the ceremony and then lead you and your new spouse down the aisle and to the wedding reception. Consider a piper for a real touch of beautiful Scotland for your special day. However you choose, we invite you to celebrate your day, your way!