Blog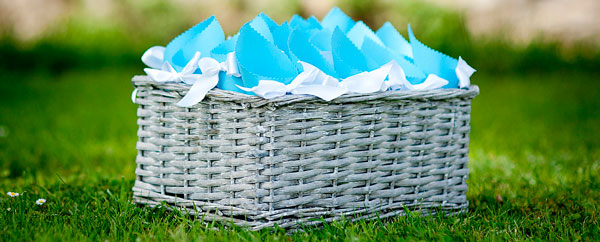 Wedding favours date back hundreds, maybe thousands of years, and are one of those things that everyone loves about a wedding. Nobility in medieval times would give gifts of confectionery or sugar to thanks, but sugar also was a rare commodity and represented the wealth of the couple. Sugar cubes were usually given or in a small box, called a "bonbonniere". These boxes were made of precious crystal or porcelain. It wasn't until centuries later that sugar became available and affordable for the 'regular' people, those not living in a castle.
Newly wedded couples began to include other treats and sweets in their gifts, items such as almonds, biscuits or fruit. These were given at the beginning of the reception so that guests could open and enjoy the bonbon boxes after their meal. In England it is still traditional to give five almonds in a tulle doily, tied with ribbon. Each of the almonds represents a wish for couple: fertility, longevity, health, wealth and happiness. "Confetti" was originally a wedding favour of sugar coated almonds.
Wedding Favours
The choice of your wedding favours these days are almost without number…you can give out whatever you want and make it as personal as you wish. At a wedding I recently attended, the wedding favour was a Single CD written and sung by the couple, both musicians who have started married life in Nashville, Tennessee. If you want to stay traditional, then fruitcake or wedding cake boxed into fancy boxes and distributed by the flower girls are a lovely touch.
Start with your budget – how much per person are you planning to spend on this item? Cufflinks and jewelery are suitable as gifts for your wedding party, don't feel you need something this expensive for all of your guests. Look around and see what sparks your interest, and see what goes with your theme. For a summer country wedding, a jar of jam or a packet of home-made cookies from a local farmer's market would be lovely. In winter, a mug with hot chocolate mix or mulled cider would do the seasonal trick.
Pretty much anything you choose can be personalized with a well-made label. So have a look around and find the perfect wedding favour for your special day.