Blog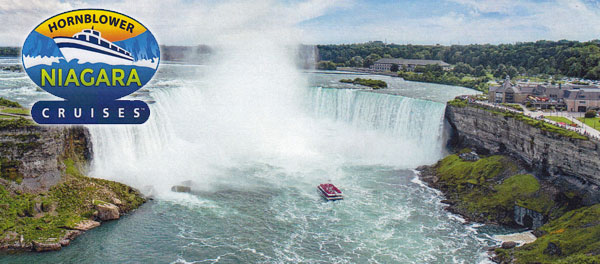 Imagine the thrill of Niagara Falls as your back drop Celebrating your wedding day.
Dream Weddings Canada is thrilled announce of it's exclusive partnership the Hornblower Niagara Falls in performing wedding ceremonies aboard its various Cruise Vessels as you both celebrate your Wedding Day and create life-long memories with friends and family!
No doubt, Niagara Falls has long been consider the honeymoon capital of the world and today remains as one of the most popular destinations to share your vows as you celebrate your wedding. Dream Weddings Canada is proud to partner with the Hornblower of Niagara to create the perfect wedding ceremony as you and your guest share the excitement and create lifelong memories of your special day.
Awaken your senses on the 20-minute round trip 'Voyage to the Falls' day-time boat tour (Yes, you may get wet!) and doing so have a romantic personal wedding ceremony up-front for the world to celebrate and cheer you on as you share this very special day.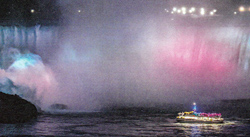 Want the lights to shine on you? Why not aboard as the evening set in on the Hornblower 'Illumination Cruise' and experience the lights of Niagara Falls? This 1-hour evening cruise is a colourful, entertaining and even electrifying and will literally highlight your wedding ceremony under the stars. You'll be able to dance the night away with family and friends, enjoy the refreshing cocktails, snacks and celebrate your love in a way that's sure to be an unforgettable night!
Or how about fireworks? Yep, let the sparks fly as you and your guests share your wedding ceremony through the Falls and the Niagara River to the colourful entertaining and amazing fireworks display on the 1-hour 'Falls Fireworks cruise'. Similar to the Illumination Cruise, you'll relax among friends and family, share a few drinks, and dance the night away all in honour of your very special day.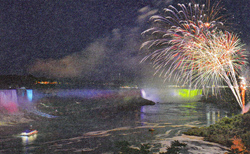 The Hornblower Niagara Cruises, is a thrilling new way to experience Canada's most spectacular wonder of the world. We'll take you on the ride of your life! An intimate tour that gets you as close as possible to the breathtaking flow of water, power and mist that is the magnificent Niagara Falls. Within the Niagara Great Gorge we'll journey past the American Falls, Bridal Veil Falls and into the very heart of the famous Horseshoe Falls. Hold onto your heart and keep your eyes wide open because you're in for the thrill of a lifetime!
At Dream Weddings Canada, personal, professional, and legal wedding officiants it's our joy to serve you in partnership with Hornblower Niagara Cruises. What to begin your plans today? We invite you to call and book your reservations with Michele Taylor (Wedding Event Manager) and let's begin your journey to the most beautiful and memorable wedding experience imaginable!
For questions and GROUP reservations and info you're welcome to call Michele Taylor direct at or email her at mtaylor@hornblower.com