Blog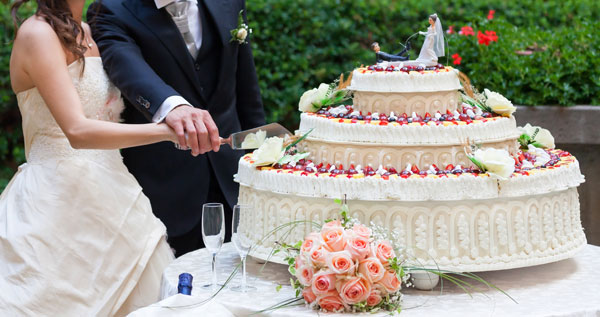 Your Wedding Cake
One of the most memorable moments of your wedding day will be the 'Cutting of the Cake.' Your quests may gather round, camera's flashing and you and your new spouse will hold a cutting knife together (symbolizing your oneness) and proceed to cut into your wedding cake. You may want to even lick your fingers following.
But long before your wedding day, you'll need to make some decisions about your wedding cake! Need to see a few for inspiration – Dream Weddings Canada Pinterest Wedding Cakes
One of the most important decisions will be your choice of flavour. Of course there is the traditional fruit cake, but we're finding fewer and fewer couples are moving in that direction and choosing a much more popular flavour. Beautifully decorated Chocolate and Vanilla cakes do work, by why settle for such plainness? Here's an idea that will move your outside the box: Red velvet with a cream cheese followed by chocolate with Nutella icing. You may of course have your favorite flavours incorporated into your wedding cake as well.
Secondly, Just how big is big enough for your wedding cake?
Well, you certainly want enough to ensure each person receives at least one piece each. However, often your guest's cake will come in a slab and be cut and prepared just before you need it to hand out. And so the size of your cake is usually determined by the style and perhaps the cake-topper. This were a professional cake decorator will be most helpful. They'll be able to advise you, show you a sample or two and a few great photos of previous work to help you decide. Most popular is still 3 tiers. Most trendy is 3 tiers and a tier or two of the same cake baked as cupcakes.
Perhaps the biggest question as it relates to your wedding cake these days, is whether to have a 'full-blown' cake or Cupcakes, either to replace the cake or subsidize it. Trends as of 2014 seem to say it's about a 50/50 split. Your call!
The last item (and probably the most notable for the bride and groom) will be the cost! How much would you like to spend on your wedding cake? If you begun your shopping, you know a beautifully decorated wedding cake doesn't come cheap! You'll need to work through your budget and determine what's right for you. This just may have been the deciding factor in the level of cupcakes VS cake!