Blog
Sure there's the old fashion way of just "Asking Them." Kind of dull and boring if you Ask Me!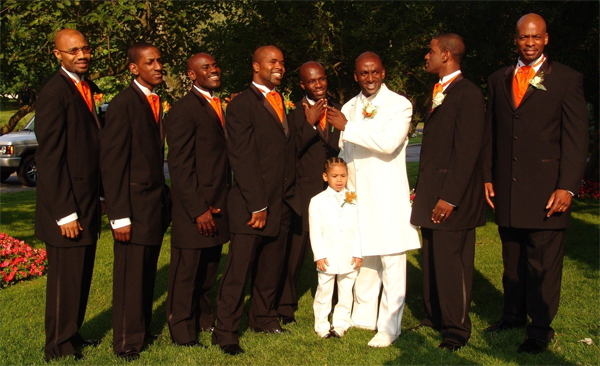 Here is a few tips for making your guys feel great and ensuring they're on board.
"Make My Day" Special Labelled Whiskey
Imagine the fun of opening a gift of Jack Daniels, only to see their name and invitation on the label? Of course, if for some reason he doesn't like Whiskey, you can label just about anything else and your invite. Of course, when your newly committed Groomsmen he responds "Yes", you'll need to open his bottle to toast and celebrate your upcoming wedding day.
Personalized Cuff Links
The idea of cuff links isn't new, but probably due to fact of so few men wearing French cuff shirts these days, the cuff link gift has become a little lame. That said, the idea of personalized cuff links goes a long way in impressing your friend. He never forget you, nor your wedding as he wears his monogrammed cuff links when he's looking his best.
A Close Shave
You can treat each of your gentlemen either as a group or individually as you pamper them with a professional shave (and even haircut). As you're there relaxing, pop the big question: "Will you be my Groomsmen?" Your guys will probably have never done such an event and sure not to forget you for it either.
A Pub Crawl
I doubt you'll lose anyone on this event. This makes a great night out (probably want and need to have a DD or even a rented limo for the evening). While everyone is still of sober mind, gather them around, share a toast and once again, pop the question. Cheers!
Lobby your Hobby
If you've been around with your guys for a long time and the group of you share such experiences as golf, weekend fishing trips, sports events and games, or whatever, why not plan an evening or weekend get-a-way with the intent of both having a great time, and of course asking them to stand up at your upcoming wedding. After all, life is but a series of memories – You're sure to create a few memories to last a lifetime.
There are so many ways to ask your friends to share in your wedding day. Get creative and have fun as you make your plans now. And although was written with the guys in mind, there's not much that doesn't work for the ladies as well.