Blog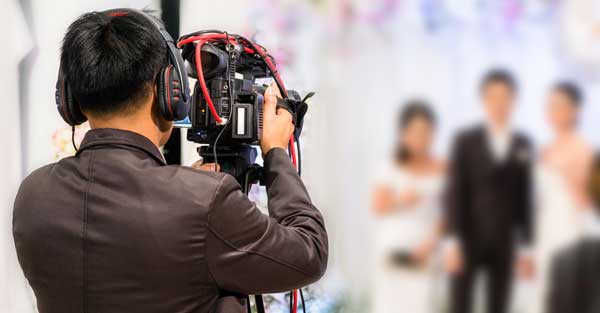 A videographer (along with his or her assistant) is one of the expenses for your wedding that will be in the thousands, so choosing the right team is very important. Not just for your wallet, but you want absolutely top quality filming done so that this video diary of the events will be a joy to watch and reminisce over. A videographer prices range starts at $2000 and can go up to four or five times that price. When you are getting a quote (from at least 3 vendors), be sure to see what is included: how may copies on disc, taxes, rights for him or her to use it on their website, and when filming starts and ends.
The three main sections for a videographer to capture for your wedding will be the pre-ceremony, the ceremony, and the reception. A professional will know exactly what time to arrive, who to send (perhaps a female for the bride, if you are more comfortable, being filmed getting into your gown and having your face, nails, hair done) and exactly where you will be. No point in having someone booked that shows up at the house when you're at a hotel, or vice versa.
Be sure to go over a list of events in the day that need to captured; the reveal, your father giving you away, your first kiss, cutting the cake and first dance, special guests you don't want to miss and so many other memories of the day. A professional videographer will have check list at your first consultation to go over these things, and your wedding planner can make certain they take place. You want to enjoy your day, not having to keep checking it's being filmed. The videographer's team will have multiple angles and cameras set up so nothing is missed, and that is worth paying for.