Blog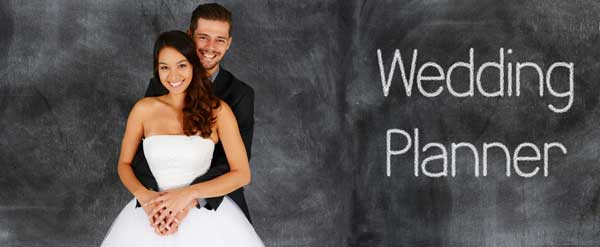 Feeling a little stressed, tied up, overwhelmed? If you're not a "list person", then finding a Wedding Planner needs to be top of your non-existent list! A Wedding Planner will do all the hard work that you may not want to do, and if phoning around venues getting quotes isn't how you like to spend the next four Saturday afternoons, then that's a pretty good sign you'll be thrilled to have a personal Wedding Planner.
Over the years I've known friends that are very "hands on", they want to know every detail, check every minute decision (what color will the confetti be? Is there reserved parking for the limo? Are there extra Kleenex in the ladies washroom?). I've also been friends with brides that are more on the lines of "got my man, got my dress, let's get this over with" maybe not as romantic but certainly flexible! Either way, getting some professional help is always a good idea. Whether you have 40 guests or 400 guests, a Wedding Planner can help relieve some of the mundane chores and take some stress away … and save you money!
Personally I enjoyed all the wedding planning myself, I was in total control of food, venue, clothing, music, the whole works. My groom's responsibility was to get himself a navy blue suit and new shoes. The suit he tried on and got fairly early on. The shoes, I kid you not, he purchased THAT morning! Nearly 19 years later, I'm still the planner and somehow he manages to pull everything together at the last minute, going on holidays: months in advance I plan and budget and print off the map, he packs and grabs CDs for the road trip as I get the kids in the car! It works for us, but if you are BOTH that laid back, then a Wedding Planner is a necessity and such a wonderful treat.
Meet with a few Planners – you will get a feel for one that will suit your personality. A Planner should be pleasant and flexible, but organized and ready to stand in your corner with regards to services you require. For example, if you book a DJ and they don't show, your Planner will get on the phone and sort it out for you (you may not even know about the impending disaster until after she or he has saved the day!). The Planner's job is to make your vision happen.
A wedding planner also had the connections! They worked with so many individuals within the wedding industry and know the 'good ones' and sadly, the 'poor ones'. They also know the prices, the bargains, the values and what works best for your wants for your wedding day. You'll want their advice on the venue, the photographer, the wedding officiant, the florist, the limo, etc. They also know what the price should be and know how to get it! After all, they do this for a living and are professional about it.
Of course, you get what you pay for, so work out if it's a flat rate (I recommend this) or an hourly rate. Prepare to spend a few dollars. When you see the "to do" list, a grand or more may seem like a bargain to take the stress of your mind. Don't be afraid to try someone fairly new to the business if you want a bargain; they may be wanting to prove themselves and you can offer a testimonial for their website after the Day.
Interview a few over the phone, then meet up with the one you think may be the right fit. Enjoy a coffee and wedding talk, and decide if this "fairy godmother" is real! She may be!