Blog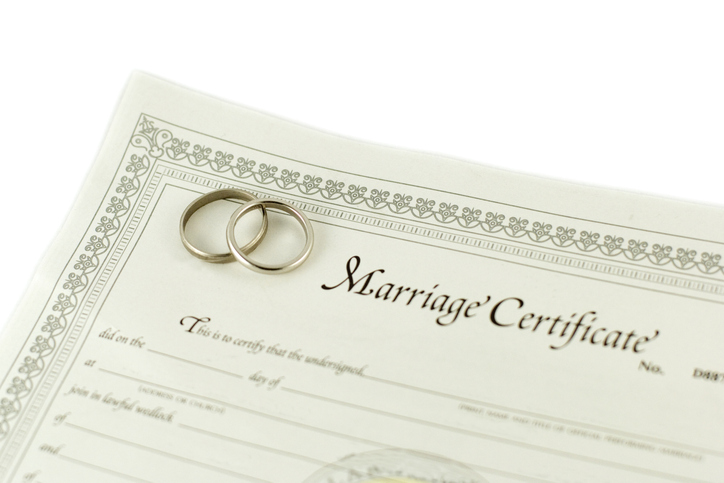 Planning to make your wedding vows in Ontario, Canada?
Sorting out all the details of a wedding can be overwhelming. But more important than colours or cake, there's the legal stuff you need to take care of.
Every year, couples who have planned all the details of their ceremony, vows, menu, and honeymoon actually forget all about signing on those legal dotted lines.
This isn't the fun part of getting married, but it is non-negotiable. There are forms to fill out, documents to procure, fees to be paid. Without this work, you won't be able to wed.
In this post, learn step by step how to get married in Ontario.
How Old Do You Need to Be to Get Married in Ontario?
If you are at least 16 years of age, you are allowed to get married in Ontario, Canada.
However, if you are not yet 18 and you want to get married, your parents or legal guardians will need to sign consent forms first.
Who Can Marry You in Ontario?
In Ontario, there are two recognized types of marriage: religious and civil.
In either case, you need to take the extra precautionary step to ensure the person, or "officiant," you plan to have marry you is legally permitted to do so.
Religious marriage ceremony
The easiest way to check and verify that the religious officiant you have chosen is authorized to marry you in Ontario is to visit the government of Ontario's religious officiants database and do a search by name.
Civil marriage ceremony
For a civil (non-religious) marriage, you can get married in a local city hall, municipal office or town hall by an authorized officiant. Usually, this person will be a judge, justice of the peace or municipal clerk.
You can visit Ontario's municipalities database to find the closest location to you.
What Forms Do You Need to Get Married in Ontario?
There are two legally recognized marriage forms in Ontario: banns or a marriage licence.
About banns
Banns are religious documents that are available only if both parties are getting married for the first time. You must get the banns form from the religious organization. Both you and your spouse must sign the banns right after your religious marriage ceremony.
You must contact your chosen religious organization directly to find out the legal process for publication of the banns.
About a marriage licence
If you or your intended has been married before, you will need to apply for a marriage licence to legally marry – even if you intend to have a religious marriage ceremony.
The marriage licence is also the right document to use if you plan to have a civil marriage. To obtain a marriage licence, you or your intended must visit an authorized municipality and bring two forms of government-issued identification, one of which must have your photo.
You will need to contact the municipality directly for details about how early to request your marriage licence, the fee amount and how to pay it.
A marriage license is valid for only 90 days after the issue date, so be sure to time your application accordingly.
What Is the Difference Between a Marriage Licence and a Marriage Certificate?
While the names are quite similar, you don't want to get these two legal documents confused.
A marriage licence is a document you will need to obtain in order to be legally permitted to marry.
A marriage certificate, in contrast, is simply a written record that you have been legally married.
You may need to show your marriage certificate at a later date if you want to change your last name.
NOTE: A marriage certificate is not the same thing as a record of solemnization of marriage. The latter is a written document some religious marriage officiants give to couples right after the marriage.
How Do You Remarry After a Divorce in Canada?
In Ontario, if you have been married before, there are additional steps you will need to take before you can receive your marriage licence to get remarried.
These steps will vary based on where your divorce occurred.
Divorced in Canada
If you were divorced in Canada, you need to provide either an original or a court-certified copy of either the final divorce decree, the final divorce judgement or a certificate of divorce.
Divorced outside of Canada
If you were divorced outside of Canada, you will need to obtain your new marriage licence first and then provide it along with some additional documents before you will be permitted to remarry.
Required documents include your signed marriage licence, a signed and witnessed statement of sole responsibility form, a legal opinion letter from your attorney and a divorce decree (or annulment).
All of these documents must be in English or French. If the documents are in a different language, you will need to provide a copy of the translated documents. The documents must be accompanied by a sworn affidavit from the certified translator who rendered your documents.
It can take four weeks for these documents to be processed by your chosen civil authority. Once processing is complete, you will be issued a Foreign Divorce Authorization, which will arrive by snail mail courier.
Do You Need Help Planning Your Dream Wedding?
Planning your dream wedding can require a ton of hard work – and we can help.
Dream Wedding Officiants serves the entire greater Ontario area, providing customized wedding ceremonies, licensed officiants and pre- and post-marital counselling and encouragement.
Get in Touch
Our testimonials from happy couples say it better than we can! Dream Wedding Officiants is an inclusive, LGBTQ-friendly, Wedding Wire-rated business.
Contact us online or give us a call toll-free at 1-877-510-5850 to schedule your free initial dream wedding consultation.