Blog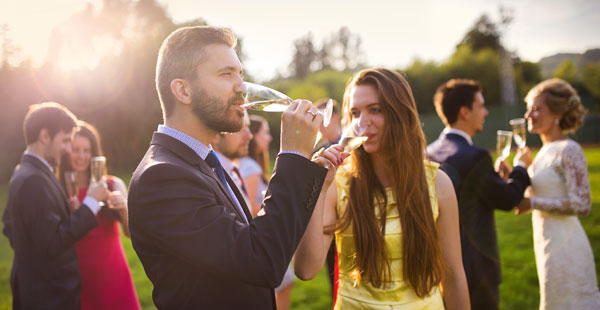 How many events or meetings have you ever had to attend where you know nobody else or just one other person? It can be awkward or intimidating to go to a wedding and be seated with a table of complete strangers. Depending on personality and personal experience, some people find it easier than others mix with new people in social situations, others find themselves tongue-tied or often worse, babbling on and on because of nervousness. It can help your wedding guests to have a few ice breakers ready, getting the people talking and mingling, and creating a party atmosphere for your wedding reception.
Making Your Guests feel Welcome
A simple quiz, neatly printed out and placed on the table (with a pen or two), will get people chatting and involved (possibly to start your wedding reception, as people are being seated). This can be like a "pub quiz" where the table becomes a team and one appointed leader calls out the answers to the MC. You can make it about the couple – how they met, their favourite sports teams…questions like that, nothing too intense! Or have a quiz about a theme – history the years they were born, hockey or baseball, bands or types of music. For example, if you were hosting a "Mad Men" 1960's style wedding – a very trendy choice at this time – have your ice breaking quick about the 60's. Your older guests will appreciate this, too!
Until the meals and wedding speeches are done, and the dancing is about to begin, your guests will not want to get up from their tables and mingle in that type of ice-breaker setting. Have a deck of cards or a game on dominoes at the table – or 'wedding bingo'! There are so many varieties of games available to you. A drinking game would be fun, too….everyone takes a sip of wine or champagne when the secret word is said. For example, each table would have a word at their centerpiece – and when someone says that word in the announcement or speech they all take a drink – words like "Bride", "party", "thank you"….etc.
For prizes you can have the winning table served first or have a bottle of champagne brought over to them. Give some thought as to how your guests will want to mingle and meet each other. There's a line from the quintessential wedding movie "Four Weddings and a Funeral" when the lead character sees the seating plan and moans "I'm at the Table of Girlfriends' Past". Try to avoid that uncomfortable situation for guests!
There is little expense to you having an ice breaker set up, and your friends and family will appreciate the effort gone into making them feel more welcome and comfortable at a table of new friends.