Blog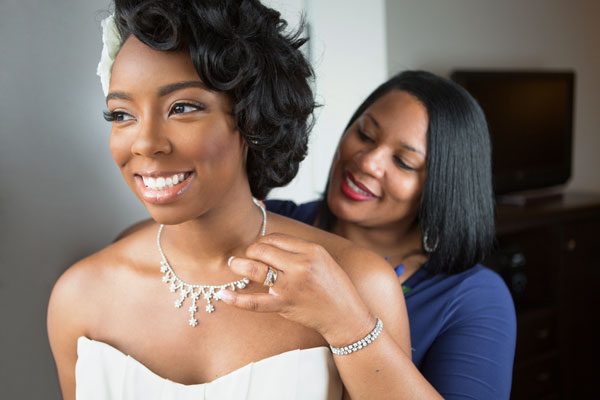 The mother-of-the-bride can frequently overlook herself when helping with a daughter's wedding. As the mother, you can be so busy looking out for others that you leave your own outfit a little late, and end up wearing something that you don't love. You will be in these photos, too, for years to come, so you don' t want to wear just any old thing. As a hostess for the event, you want to look and feel your very best. If you usually wear jeans and a cat sweater, now is the time for a mid-life makeover!
Regardless of your size you CAN find a flattering silhouette that will help you look leaner and taller. Shapewear will help smooth out lines and flatten or boost areas that need a little extra help. These aren't whale-bone corsets like your grandmother wore – shapewear is a booming business that has evolved into comfortable and wearable undergarments that you can wear all day and still be able to breathe. Buy the shapewear and outfit at the same store so you can try it all on together.
Mother of the Bride – The Dress
As the mother of the bride, you want to stand out in a tasteful and appropriate way. This can be done by choosing your outfit to complement the theme of the wedding. For example, a knee-length dress in a flower print for an outdoor summer wedding, or a floor length gown in a heavy, darker fabrice like emerald or navy for a winter wedding held in a hotel. You don't want to clash – nor do you want to look like you are trying to be a bridesmaid. Find out what color the wedding party will be in, and then choose a color than first of all suits your skin tone and secondly will look beautiful in the wedding photos next to a line of bridesmaids.
Always remember to keep your age in mind when choosing a dress for this event. You don't want to go too young: baby pink, spaghetti straps, too short or too old: oatmeal beige, too long or boring shoes. It's better to spend extra on fit and quality rather than what is a current trend or just because something is on sale but you don't really love it.
Accessorize your outfit with a fashionable headpiece or a layered necklace. Avoid pearls or a brooch as these are too matronly for the mother, more suitable for grandmother. Add a bright corsage of flowers and you will delight your daughter as you proudly stand next to her on this special day.