Blog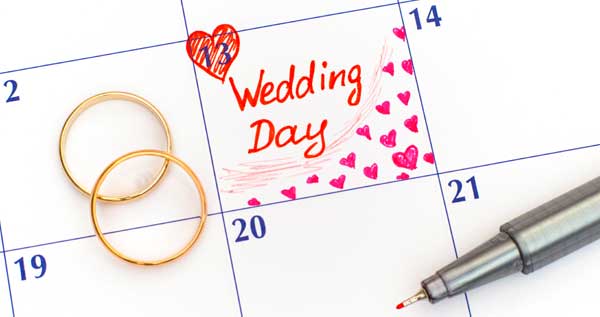 Congratulations, You've just got engaged! Any now it's time to plan the wedding… the wedding date! Perhaps you've already given it a lot of thought, a special day in history (your first date, your engagement anniversary, etc) can always highlight your relationship together… forever.
OR… Perhaps, you're asking yourself, "How do I pick a date that works for everyone and is still special to me?" or "Where do I even start?"
Pick the Perfect Wedding Date for You:
What would you like the weather to be?
Some (most) love a warm, comfortable day and therefore May, June, September and October seem to work best for them. Other's just can't get enough of summer and so July and August is perfect (it's also a good time if people with children have to travel to your wedding). And then there are those who live for Winter – Scenic Winter Wonderland

Every season has its beauty! Just choose the right one for you!

Consider the cost of the off-season
As you might imagine, prime time for wedding is the warmer, summer months. If you're working on a tight budget, consider November, January, February or even March. Most venues (the bulk of your expenses) will be happy to work with you and are much more flexible with their pricing in the off-season. Busy days for weddings in the off-season are still Christmas and New Year's Eve, and Valentines Day. You may also want to consider a Sunday or Friday evening over the busiest day of the week, which is still Saturday.

Choose your surroundings for your wedding day.
As we've said, you may want to celebrate your wedding day in the cold, but beautiful snowy surroundings. You may also want to choose your day based on the seasonal surroundings at other times of the year, especially if you're considering a outdoor wedding. Seasonal variations of flowers and trees, Vineyards about ready to harvest, Freshness of Spring – Lot's to choose from as you consider your location and your wedding date!

Considering a Major Holiday.
Besides Christmas, New Year's Eve and Valentine's Day you may want (or NOT want) to celebrate your special day on other major holidays. Reasons why NOT may include the busyness of life that surround those holidays, travel hassles and higher expenses, cost of venue and vendors on those days, etc. Some reasons why you may want to get married on a holiday; most people are available (off work), it symbolizes a special day in your life's together, it's easy to plan around…

Celebrating a special day in the life of a VIP
As many of have hero's in our life, you may choose a date based on a special day of someone you value greatly in your life. Many couples have chosen their parents, or even grandparents wedding day, as the day they would like to celebrate their wedding. How touching it is to honour a Very Important Person on your special day!
It's your wedding and planning the date is both a small and large part of it. You'll probably have no better day than the day you choose. Pick it, Stick to it and let the world know, this is your day!