Blog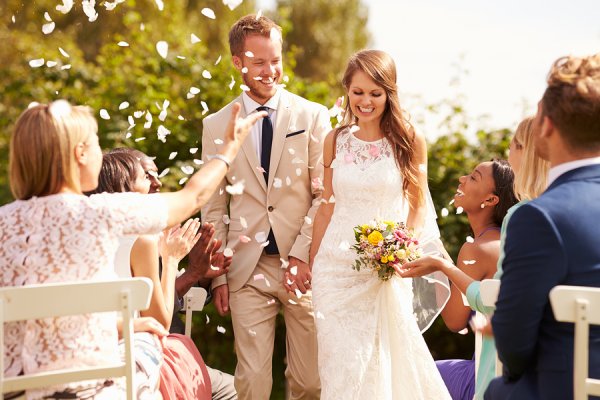 Suggestions are just that: Suggestions. Many couples enjoy a traditional ceremony; perhaps one they've witnessed many times before, while others are seeking something new and different; something that's never been done before. Either way both make for an ideal wedding if that's 'what you would like'.
There are a few absolutes within the Province of Ontario that must be a part of your ceremony; they are the sharing of your Vows to one another, a pronouncement of your marriage (officially declaring you married) and or course the signing of the license by the bride, groom, the maid (Matron) of honour, the best man (or two witnesses of legal age) and an legal wedding officiant within the province. Everything else is really a matter of preference and can be decided upon by each couple in designing their own special wedding ceremony.
As your wedding officiant it's our desire to work along aside you, answering any questions, making suggestions and work together planning your perfect wedding. The truth is: It's Your Wedding – We just have the privilege of serving you and fulfilling your request – It's the Perfect Wedding: YOURS!
Here are many of the suggestions in making your ceremony perfect for you:
Musical Prelude
Music that is playing as your guests arrive. Generally this can be through live music or electronic (CD, iPod) music. If you're using a DJ, they will be able to help you in providing and choosing the right music just for you.
Processional
Entrance of the Wedding Party. Again, there are many different ways of using music during the entrance of the Bride and Bridal Party. Whether using live of recorded music, you'll want to decide just what's right for you.
Welcome & Opening Words
The Official Welcome. The Officiant welcomes your guests to the ceremony and shares some thoughts about the ceremony/marriage.
Affirmation of Families and or Guests
Affirming and Supporting the Marriage. Whether it's the parent(s) or the guests, this is an opportunity for those closest to your to pledge their support for the Bride and Groom as they enter into their marriage. Traditionally, the father (and mother) have been asked "You gives this woman to be married to this man?" However today, there are many variations of such a question, including asking your quests to share together in the answer "We do".
Special Reading(s) or Special Music
Adding that special touch. Perhaps a special reading or a song will best describe your love towards each other, and so we invite you to consider a romantic or scriptural reading, or having a special song sung. Although our officiants don't sing, they do speak and would love to share your choice of a special reading. We'll leave the singing to the gifted, perhaps a relative or friend would be the right choice. You may choose to have a second reading or song a little later on in the ceremony, or during the signing of the License.
Encouraging Words
Words of encouragement and challenge as you begin your marriage together. These words of encouragement may be shared by your Officiant or by a special friend or family member. Although brief (just a couple of minutes) they can provide a special personal touch just for the bride and groom in making this ceremony uniquely theirs.
Vow Exchange
Making Promises to last a lifetime. Making your vows to one another is always the highlight of the ceremony as in essence you're stating publicly your commitment and love for each other in front of your guests. Vows can be tradition, contemporary or be your very own. We'll help you through this process if needed no matter which way you choose. We don't suggest trying to memorize your vow, after all your mind will be on many things this day. We will help if you would like to read them yourself or if you'd like to recite them back to each other. Don't worry
Ring Exchanges and or Blessing
Symbolizing your vows through your rings. Traditionally couples have exchanged rings as symbols or tokens of their vows to each other and so we'd be happy to help share with you in a meaningful way the uniqueness of the rings. There are many readings that may be used in the ceremony highlighting this special time.
Official Declaration
You're now married. Again there are many ways of declaring your official marriage and so we'll help you pick the one that means the most to you.
The Kiss
Even more fun! By now we're convinced you know how this works.
Signing the License
Making it Legal. We'll have a few moments where the Bride and Groom, the maid (Matron) of honour and the best man, and the officiant gather together to formalize your ceremony through the signing of your marriage license. This is great time to have special music being sung or played.
Special Memories
Special touches to remember. Perhaps you'd love to share in the lighting of the Unity Candle as a couple, share on the Sand Ceremony or Wine Ceremony, or perhaps some special cultural and/or traditional symbol to help make this ceremony even more special. Often following the Signing of the License, many couples engage into a unique ceremony within the ceremony. We've listed many, but would be happy to hear your ideas as well.
Closing Words/Announcements
Letting your quest know what's happening next. It's here we'll let your guests know you plans in regards to the taking of our wedding photos, the reception time, receiving lines, possible cocktails and hors d' oeuvres being served or just about anything else you feel you'd need to have shared as we conclude your ceremony.
Presentation Of Couple
Presenting you for the first time. With your wishes, it will be our privilege to present you to your guests as the new husband and wife. Once again, there are many options available to you so we get it just right.
Recessional
Finally. Your formal ceremony has come to an end and it's time for the bride and groom to exit, usually along with their wedding party. May we suggest a favourite song as you walk down the aisle.
Musical Postlude
The Exit. Music is often played in the background as guests follow the wedding party from the ceremony.