Blog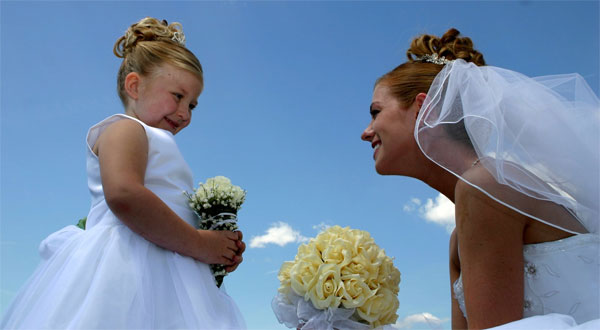 If you are trying to decide about having a flower girl or a few of the little munchkins in your wedding party, here are some tips for choosing. Typically, a flower girl is between the ages of 4 – 8. Any younger, and they make go "off piste" when trying to walk down the aisle…distracted by the cameras, new surroundings, waving at grandma. If you are having a relaxed outdoor wedding, this may be perfectly suitable and won't trouble you at all. If you're wedding ceremony is indoors at a formal religious venue, it may be more distracting than adorable. One solution here is to have an older flower girl, or a girl over the age of 8 will prefer to be called 'junior bridesmaid', lead the little ones by the hand.
Choosing Your Flower Girls
The flower girls often have a close affiliation to the bride and groom, typically nieces and or daughters of people in the wedding party. You can have as many as you like, but remember that children rarely stick to the script, so if you're an easy-going personality, you can have all the flower girls available form your family and make your mother (and new mother-in-law) very happy!
Just one word when having flower girls and ring bearers…practice. You don't have to include children at your wedding rehearsal and dinner the night before, but that morning her Mum or an Aunty should show her how to walk a) slowly b) in a straight line. It's good practice for other occasions, too, like Kindergarten graduation and dance recitals! A young child will want to practice walking towards the same person they are going to see at the end of the aisle, so it's not another thing for the Bride to do. Also, when the little ones to get to the altar, it may be smart to have a seat in the front row ready for them, next to relatives they know, for the duration of the ceremony.