Blog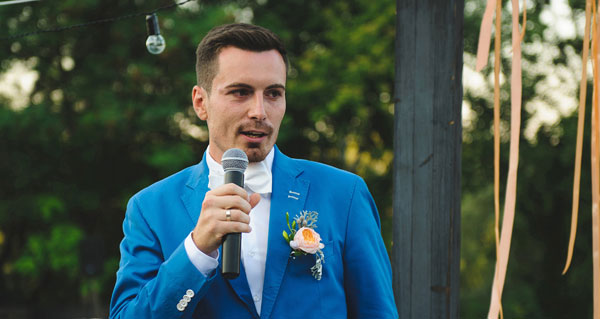 Grooms are becoming more and more involved these last few years with all of the wedding planning…and paying! There's always been one role the groom has been required to fulfil, and that is his speech at the reception. Even if you are used to speaking – such as teaching, or giving board room presentations – you still may be nervous when the time comes, especially on your wedding day. All of your family, friends, and of course, your brand new wife, will have their eyes and attention on you.
Before you start, realize that public speaking anxiety as very common – you're not the first and you sure won't be the last groom to be nervous about giving a speech. Here are just two basic few tips to help you with your speech:
Write it down! Even if you just have a few points on a piece of paper (thank Mom and Dad and the new-in-laws, bridesmaids, groomsmen), this will go a long way to remembering the reason you're up there. Use the "memo" feature on your smart phone and have the speech typed out there in its entirety – it will look long, but you'll be surprised how quickly a few lines can be spoken. Have the speech typed and laminated and placed under your plate if you want to have it close but not be distracted with your phone.

Practice! Read the whole speech aloud and time it. 30 seconds is too short, 10 minutes is too long. Read it aloud to someone – not just your drinking buddies the night before, but let someone like an aunt or the wedding planner have a quick read of it. You don't want to overlook anyone to thank, and you may find a "funny story" just isn't as appropriate when you consider your audience!
Remember, everyone in the room will be on your side, wishing you well as you speak. Enjoy it if you can, plough through it if you must – you'll only do it once so write it from your heart, and your family and friends will be delighted with your efforts and kind words.