Blog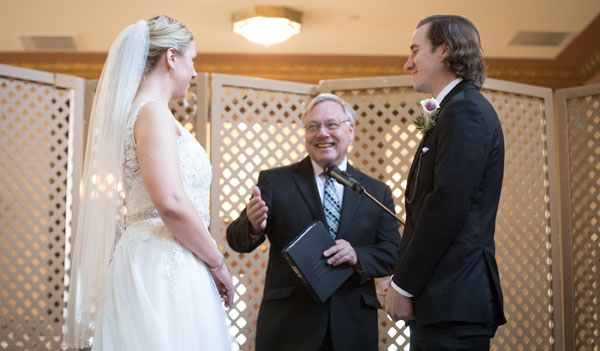 So what makes a great wedding ceremony? Is it short or long? Is it formal, traditional or contemporary? Indoors, Outdoors or in a Church or Temple? A large crowd of hundreds or a small intimate group of 20? Actually non of these issues reflect on the quality of a wedding ceremony, but what does make a wedding ceremony great is…
Great Wedding Ceremonies
Your wedding is Personal.
One of key persons in your wedding ceremony will be your wedding officiant. He or she will guide you through a few of the memorable moments of your life. The question you'll want to answer isn't tied into the time it takes (although too long, just might be a bore), nor whether you're a little more or less traditional, it is rather whether or not you wedding officiant shares and speaks with you, rather than at you! Do they speaks as if your friends, rather than a vast crowd of unknowns. Do they call you by the name's your friends call you (most of the time)? And a great wedding officiant never draws attention to themselves, rather elevates you on your wedding day, after all, you are the stars, your wedding officiant is strictly a supporting actor!
Beside a great officiant to personalize your wedding ceremony, you may want to personalize your wedding vows, creating even more of your personality and style. If you're still a little nervous and don't feel comfortable reading them to each other, you're still welcome to use the 'Repeat after me" clause. But writing your vows will personalize your thoughts and promises to each other and provide you and personal and fun way of expressing them
Your wedding Music fits and flows.
You're welcome to use live musicians, a band or even a DJ with recorded tracks. But choosing the right music will enhance your wedding day and ceremony. Having it professionally carried for will also make sure it fits and flows as you want it too. Even a great DJ knows when to fade or increase volume. Look for professionals in either area (live performers or DJ) and make sure they are connected to your wedding officiant. They'll not only look great, but sound great as well. And your guests will be inspired!
Your wedding becomes interactive.
Many weddings sadly have but one age old question that engages the guests: "Does anyone have any objections?" Today, great weddings may include one or two special readings from a best friend or respected family member (often an uncle or grandparent); great weddings include great officiants who draw people in often with a sense of humour or even a question of the guest's support and encouragement for the couple. Guests are invited (at appropriate times) to take pictures (especially through the signing, or in highlighting their wedding with special ceremony, such as the Sand Ceremony). They're encourage to clap (again when appropriate).
At the end of the day, the wedding day that is, you as a couple and your guests had a great and memorable event, one each of won't forget for a long time. Cheers to Great Wedding Ceremony… from your friends and officiants at Dream Weddings Canada!