Blog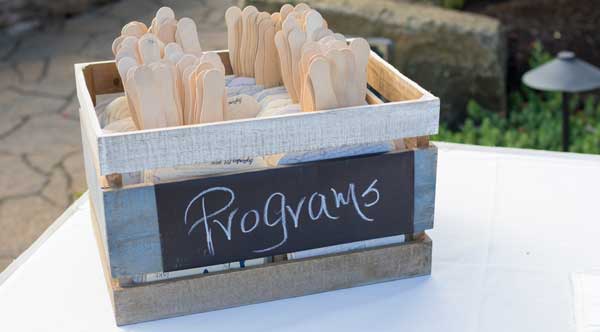 As wedding officiants we're often asked, Do I need to have wedding ceremony programs, or handouts for my guests? And of course the answer lies within your preferences and your budget!
If you can swing it as often those who create wedding invitations can create a wedding program to match your original invite – it will 'take your day' to a higher level. Your guests will more likely have a great time the more they feel involved. Wedding Programs makes a beautiful keepsake after the day, but more than that, they tell your guests who's who in the wedding party, special words, thoughts and help them follow the ceremony. To make a great program, add creativity with practicality and voila! You can do these yourselves on the computer and save a bundle, or have the person that creates your wedding invitations give you a "bundle" package of stationary that covers invitations, programs, and thank you cards.
A few things are necessary, such as the full names of the bride and groom, the date, and the location (venue, town, province) where you're having your wedding. Include the lyrics to any songs (traditional) or the words to any readings (like the lyrics to a song or the lines of a poem). Remember to put the name of the composer or author in small print underneath, as well the name of the reader. You may want to include the name of the Minister or Officiant.
You're also welcome to include a very brief biography of each attendant as nobody wants to watch a "play" and not know who the "actors" are. Include their relationship to yourselves, eg: sister of the bride, cousin of the groom, college friend of the bride. If you are having a very relaxed wedding (outdoors, country style, or at a non-traditional location) you can make your programs humorous … but tasteful! Note: you may not want to include all the info: i.e. One friend share that one of my bridesmaids had dated her husband before she came along – wouldn't be wise to highlight that fact on your "keepsake program!"
For a traditional or religious ceremony that many haven't been to before, for example a Hindu ceremony, provide a description of what is happening. For example, the father and mother of the bride receive a gift from the groom; special prayers that will be read, or unique ceremonies within the larger wedding ceremony. You wedding officiant will be able to help in this area.
At Dream Weddings Canada, our officiants begin with a welcome and a brief reminder of the annoying cell phone ring by inviting guests (and sometimes, the wedding party) to have their cell phones turned to silent mode. You may want to include this announcement and any others right in your programs as well. Something polite, but a reminder in the Order of Service, asking guests to put their phones on mute (they will obviously want to use their SmartPhones to take photographs).
The back page of your program can be used to include photos of you and or the groom with a loved one who has passed away. A lovely photo of you with your late grandmother or the groom with his late brother would be appropriate and touching. If you're moving into a new residence due to your marriage, don't forget to include a new mailing address.
Have your wedding attendants (usually ushers) hand one to each guest or leave one on each chair before the starting time. Make sure you print plenty, at least one per adult.
After the wedding you can frame or photo-box one of your programs and add a few things from the day around it to make a lovely piece or art.