Blog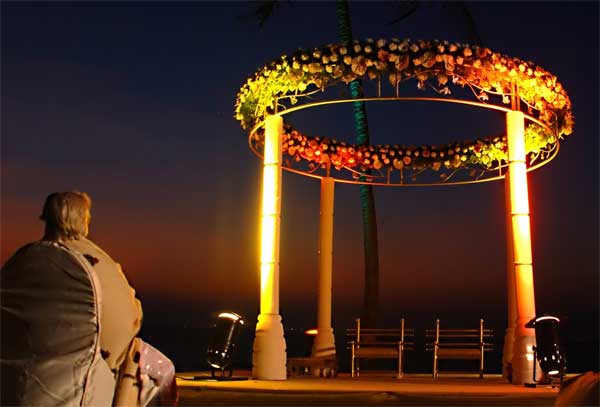 There are so many beautiful, fun and interesting things you can use for the focal point of your wedding ceremony if you are not being married in a traditional place of worship, such as a church! Today, many celebrate their ceremony outside with the backdrop of a calming lake, the fullness of a vineyard, green setting of a park or forest, or even the beauty of Niagara Falls. Of course indoor weddings are just as nice as wedding couples arrange and display flowers, scenic backdrops and often props enhancing their day.
From modern buildings to ancient castles, scenic farm homes to even the backyard – You'll enjoy having your wedding ceremony and 'altar' displaying what's special to the both of you. Here's a few ideas that just might inspire you as you make your wedding day plans now:
Surfboards – especially if you're both fans of the ocean, and particularly if you're getting married on a beach – you can stand two surfboards either side of the 'aisle' and string garlands between.

Trees – easy to find and great for putting on the front porch afterwards – a great reminder of your wedding day for everyone that goes in and out of your front door. Choose a tall topiary in a sturdy base, these are not expensive when you think how long you'll use them for, not just the one day.

Pillars – these can be rented or borrowed from a party store, or ask your local theatre company. They may be happy to rent them to you for a fraction of the cost, and even show you how to decorate them a little more if you wanted to. Add an element of classic Greece!

Cut out Photo Booth – have a handyman in the family build a fake wall with window, add some light curtains and away you go … charming.

Dramatic curtain – these can be put up and taken down very quickly and easily by a rental company. These are perfect to rent if you are in a hall or indoor space that is kind of plain … a lot of fabric can cover up the "Legion" or "Lions Club" sign and add some drama to your ceremony.

Balloons – Place a marble or penny in balloons and then they will hang just where you want them … a great way to decorate a large tree for an outdoor wedding. Balloons are not expensive, the helium can add up, so by doing them slightly weighted down you will have a pretty visual backdrop.
There's really an endless list of items that can be used to enhance your wedding day. Just remember, weight, size and weather may have some impact on your decision. It's always nice (and easier) when your venue has just what you're looking for.