Blog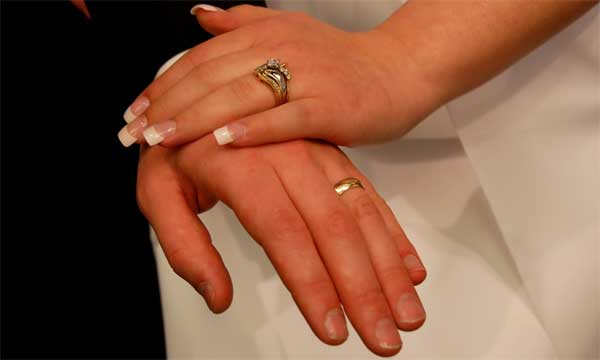 The giving and receiving of rings at a wedding ceremony is an ancient tradition, and one that in our modern world has stood the test of time. There are many options to choose from with your wedding band, all kinds of cut, styles and price points to look over and decide.
Wedding Rings
Some men choose not to wear a wedding band, and that of course is a personal decision. If you can't wear a wedding band to work because of heavy equipment, or when wearing gloves for hockey or baseball, it is still nice to have this precious gift from your bride. I would suggest that if you don't have one to wear every day, at least have one for the ceremony and to wear on special occasions. If you are uncomfortable with a band on your hand, consider wearing it on a chain or have your bride wear it on a necklace.
Wedding rings and ring sets can be found in the traditional yellow gold simple bands, but in the last twenty years white gold has been very popular. Platinum bands for grooms have been chosen recently, these are classic and masculine for men who do not usually wear any kind of jewelry. You can get a ring with a small stone, a row of diamonds, even two or three tones of gold interwoven.
If you want to make a nod to your Scottish or Irish heritage, there are Celtic wedding rings of all kinds to choose from. You can choose to have a ring made of your design, perhaps your family crest in the centre. Celtic wedding rings are very popular because they look like "man rings"…more like something from Game of Thrones or Lord of the Rings than anything too "pretty" that won't feel suitable.
Another option is to have a ring that is already in your family re-sized or personalized for yourself. This could be a ring given to your father, grandfather, an uncle at their own wedding, retirement or sports award. A family heirloom can be customized to your own finger by a professional jeweler. This adds a touch of family pride to your wedding and may be just the answer to what the groom wants for his wedding ring.