Blog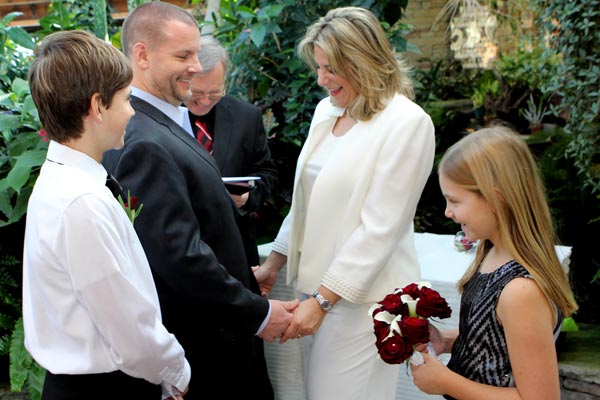 The Renewal of Vows Ceremony is ideal for those who may want a new beginning within their marriage or are about to reach a milestone within their marriage. Whether it's your 10th Anniversary, your 25th or 50th, or perhaps you've reached your 60th year of marriage … we'd love to share in making your day once again a very special celebration.
Creating the Marriage You'll Love
Happiness, fulfillment and Joy in marriage is not something that just happens. A good marriage must be created. In the art of marriage the little things are the big things.
It is never being too old to hold hands.
It is remembering to say, "I love you" (out loud), at least once a day.
It is never going to sleep angry.
It is forming a circle of love that gathers in the whole family.
It is at no time taking the other for granted. . . for what you take for granted, disappears.
It is speaking words of appreciation and demonstrating gratitude in thoughtful ways.
It is having the capacity to forgive and not bring it up later.
It is giving each other an atmosphere in which each can grow.
It is not expecting the husband to wear a halo or the wife to have the wings of an angel.
It is not looking for perfection in each other. It is cultivating flexibility, patience, understanding and a sense of humour.
It is a common search for the good and the beautiful in each other.
It is not only marrying the right partner, it is BEING the right partner.
Marriage can be a great adventure when it is the outward expression of a great love; such a love is characterized by compassion, passion and courage.
It allows you to see through to your partner's essence, willing to be in total support of your partner's well-being, goals, purpose and spirit; and unwilling for your partner to be less than all he or she can be spiritually, mentally, and physically.
Such a love requires that you be totally honest with yourself and your mate, that you ask for what you want, take action even though you are afraid, share your feelings and listen but leave your partner free to be who they really are. In other words, always love your partner for who they are, not for who you think they should be.
Always remember, "Relationships are something that must be worked on all the time, not only when they are broken and need to be fixed. Never stop doing the things that brought you together in the first place."
Ideas for Renewing your Wedding Ceremony
"Renewal of Vows" is a great way of celebrating with friends, family and have your Wedding Party re-united for the occasion. Of course it's a great way to introduce your 'whole' family to a very special day celebrated many years ago . . . children, grand-children and even great grand children, along with niece's & nephews, old school friends, you name it . . . invite them all!
If possible, don't forget to include old wedding (even engagement) photos and if available your friends "earlier" day photos as well. You'll love the hairstyles and dress-codes of your yester-year! Scrap-books or Videos of prints and even old movies provide an amazing and some-what unforgettable experience.
Are you nearing a milestone within your marriage? Looking to share this special moment with your kids, your grandchildren, and a few friends, why not plan you own Renewal of Vows Ceremony? We'd be happy to help make your day special . . . once again!