Blog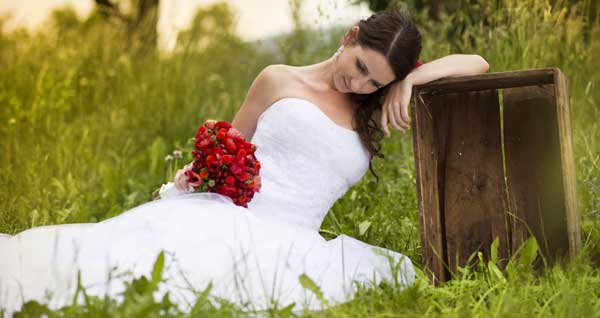 Say YES to the DRESS
Now that you've found the gown you love, the one you chose out of all the ones you looked at online, in magazines, at bridal shows, other friends' weddings and so forth, it's time to prep the dress for its big debut. Choose bridesmaids dresses that will compliment the style, not over-shadow your dress and in a colour that will look timeless in your photographs for years to come. "Barbie pink" may be something you've always dreamed of since you were little, but it's not a sophisticated choice for the woman you are today. Consider pink sashes or hot pink shoes as an accent colour to grey/silver, brown/ecru, navy/sky blue, or even black.
Next, add your 'something blue' if you want to keep the Olde English traditional rhyme of "something old, something new, something borrowed, something blue". You can have a heart shape of material sewn to the inside or outside of your dress from a loved one's shirt, such as dear grandfather who has passed away. If that feels a little too serious, have the date and you and your groom's initials embroidered on the hem. Kate Middleton simply pinned a blue ribbon to the inside of her breath-taking Alexander McQueen gown…a touch of thrift on an extravagant occasion!
Your great-grandmother called them "unmentionables" but these days we just come out and say it…you need the right underwear. Nothing will make you feel more confident and comfortable for the long day then 'unders', as my daughter calls them. There are so many options out there today, from trusted and true department stores to little boutiques to online discount estores that you have no excuse to have a bra strap showing or even worse, have to 'hitch up' your strapless gown every minutes! Go for function, not "pretty pretty"…you can always change into something glamorous later on. The aim is a smooth line under your dress, and if that means a beige corset called "Helga" then so be it. Plenty of time for itsy bitsy teeny weeny bikinis on your honeymoon!
Your jewelry will need to compliment the style and shape of your dress, especially around your face and shoulders. If you have a strapless dress, then grandmother's pearls or a special necklace of most shapes will suit you nicely, as long as the length sits against your skin and doesn't touch the top of the dress. If you don't want anything on your neck, then earrings can add a touch of glamour to your look…any shape or size that you like. If you want them to be a major feature, then take them with you for your hair trial so that your hairdresser can see exactly how to get the most out of your style. Sometimes less is more…you might want a tiara, veil, earrings, necklaces, bracelets and extra rings but try it all on and then take off one or two pieces at least. You want your groom to see YOU coming down the aisle, not you overshadowed by bling!