Blog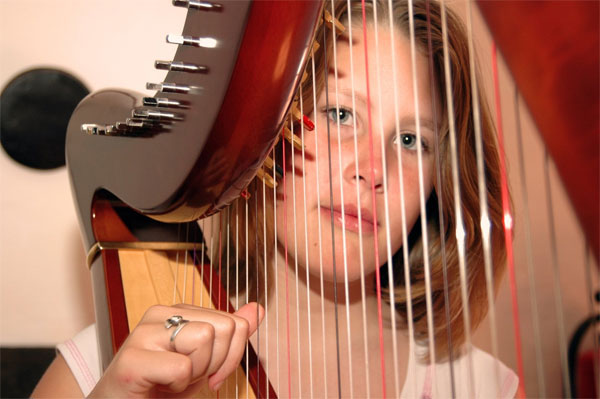 When my dear mum turned 'a certain age' a few years ago, she was able to buy something she had wanted her whole life – a beautifully crafted harp. She loads it up each week in the back of her car and goes to her harp lesson, and the sounds and songs she plays are a delight to the ears. Years ago, my sister and I had to take piano and violin lessons, respectively. Listening to a child learn the piano is one thing, listening to a child learn the violin is a whole new level of torture. I'm glad to say that our vain attempts to strangle a sound resembling a song from our instruments didn't put our Mum off learning the harp. Listening to someone learn to play the harp is a delight. You can sit back, put your feet up, and with a comfy pillow and some chocolate ice cream, you may feel like you're actually in heaven.
Wedding Ceremony Ideas – Having the Harp at Your Wedding
Consider bringing in a harpist for your wedding… 30 minutes before the ceremony begins, as the guests arrive, the harp music will set just the right mood. It's a soothing and graceful instrument, and a focal point to hold people's attention until your wedding officiant begins. A harpist will add a classy touch and live music is so much more entertaining then a stereo system or, horror, no music at all. Just that awkward silence as people usher in and find their seats.
A harpist can be found by searching online, of course, or you can call and ask your local music store if there is someone they can recommend. You may also follow our list of Preferred Vendors (including a harpist). A person who has only been playing for a year or two may be just the key to adding that extra something special to your ceremony, and will be happy to play for a smaller fee (and a good reference for other weddings).
When you hire a musician, ask about what they will need – chair, stage, music stand, lighting, sound equipment – these all need to be discussed. Ask to meet and hear a sample of the harpists repertoire and have a contract drawn up re: times, hours, deposit paid. This will save you from having any hassles on the day, and you can walk into the ceremony to the accompaniment of the beautiful romantic harp strings.