Blog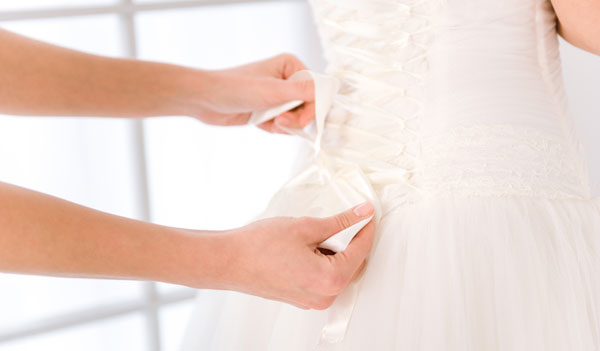 Your Wedding Dress
"Four short weeks before my wedding day I went in for my final gown fitting. This dress was THE dress – the most amazing wedding dress and I wanted it on my wedding day! It was all part of the Perfect Wedding!
Let me back up a bit to when I had first tried this dress on 6 months ago. It was the 4th dress I tried on and as soon as I was tightly buttoned in, put on a veil and saw myself in the mirror, tears immediately came to my eyes. Yes ladies, what you see on 'Say Yes to the Dress' is real – tears are inevitable and you'll instantaneously know when it's "the one". The thought and build up to this fitting day was a bit nerve-wracking, would the same feelings I got when I first tried it on reoccur? I had high hopes and reassured myself that the feelings of excitement and butterflies would return.
To my absolute horror the fitting went completely sideways. The wedding dress did not fit and I couldn't have gotten it buttoned up if my life depended on it. A million things we're running through my mind and even though stuffing my face with food is probably what got me here it seemed like a good solution to my new found sadness and depression. Once my mother and sister talked me back to reality I realized this dress was too beautiful and perfect to be replaced. As the one and only Vera Wang once said "You don't alter a Vera Wang, you alter yourself to fit Vera." This is exactly what I had to do, lose inches quickly and fit into this dress in four unbelievably short weeks.
So what to do? Spend hours upon hours at the gym? Not even slightly possible with my already busy schedule of work and wedding planning. Perhaps cut my daily caloric count in half? Yeah, not possible either – I really don't want to go through another fainting incident at work. Then I remembered that my girlfriend's cousin had gotten some pretty amazing and quick results at YOLO. I immediately called them and in a matter of minutes I had a consultation set up for the next day. I did my initial consultation with Jackee who was such a pleasure to work with. She was very patient with me and explained how the YOLO Curve Lipo Laser worked and had all the right answers to my questions. Jackee said that we could focus on just my trouble areas and get rid of that extra fat around my waist and upper back – this is exactly what I needed (my wedding dress was tight fitted around the waist and strapless)! We did 3 treatments a week for three weeks and the results were truly amazing and slightly unbelievable. The fat in places I never thought could disappear disappeared and on my big day I fit perfectly into my dress!
Thanks to the team at YOLO for saving my wedding day!"