Blog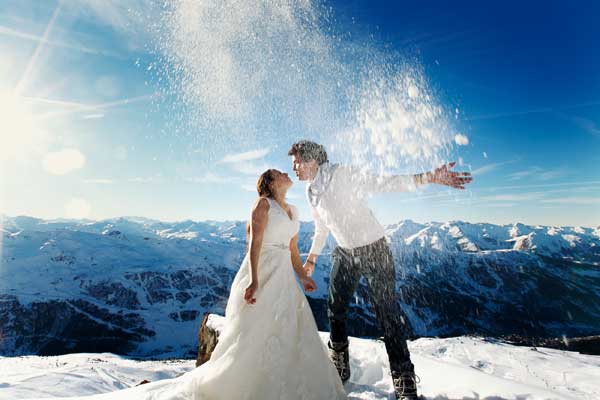 We live in a beautiful country where winter features heavily … and depending on where-abouts you live in the 'True North Strong and Free', it can be winter for months at a time. There's no need to wait for summer to have a beautiful wedding day, us Canadians are a resourceful and hardy breed, and no snow or can stop us from getting family and friends together for a party!
Winter Weddings
January, February and even March are quiet months in the hospitality industry, so look around your hometown and see which hotels will give you a complete package for your wedding day: a pretty wedding ceremony sight (like in front of the fireplace in the lobby or on a covered balcony overlooking a scenic view), a reception hall with catering, cake, DJ and dance floor, a suite with hot tub for relaxing afterwards, and an 'off season' room rate for friends and family. Other places like community centres, golf clubs, retreats and resorts are also great places to look for locations that may have all you need under one warm roof. Our wedding officiant may be a helpful resource as well in choosing the venue for you.
Making memories AND angels in the snow … imagine a snowball fight after, guys vs girls, or roasting marshmallows over a campfire with both sides of your family sitting around getting to know each other better. You could make it a 2-3 day stay at a resort where it's also a family reunion … let the older folks stay warm by the fire, the younger ones learn to ski.
Previously on our blog we talked about horse-drawn carriages (of course sleighs work well too), another beautiful way to celebrate the winter season on your wedding day. Think about the food as another way to bring warmth inside (but not turkey, too much of that already). You can always try out different meals at your wedding reception venue when you go for the tasting … your chef will have lots of ideas and will probably be excited to make a wedding meal that's not the regular salad, chicken, and cheesecake. Ask for a soup to start instead of salad and perhaps a warm desert, like bread pudding with maple syrup or baked apples with warm caramel sauce.
Bride and bridesmaids can look dazzling and delightful in velvet or faux fur wraps or capes over their dresses. These can be bought, hired, or made (you could have a gifted sewer in the family make the capes or wraps). They suit all shapes and sizes, can be worn after the event and are easy to make. If you have the brides' cloak made with a hood, embellish the trim and use the outer garment instead of a veil…the photos will look amazing!
Once you start looking at Winter Wedding ideas, we're sure you will be just as excited about it as if you were planning a June wedding. Winter is wonderful, you can shine as brightly as an ice sculpture or twinkling star, without worry of people being away on vacation, getting sunburned or mosquitoes! And a honeymoon somewhere with palm trees and steel drum band will give you the very best of both worlds all at once.
Of course, following your wedding ceremony in the North, you may just want to head South – Check out the deals with Sandals – and have an awesome, warm and sunny honeymoon!