Blog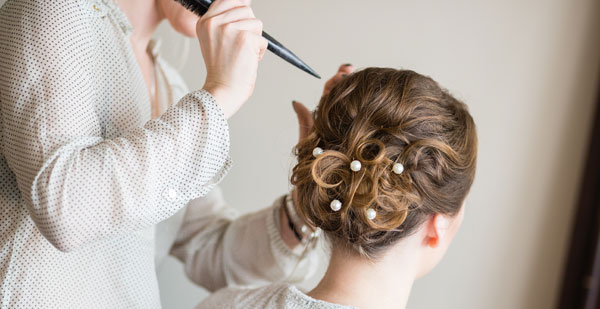 When you choose a salon option for getting ready with your bridal party on your wedding day, there are a few things to look at before you book your appointment. If you have the time available, getting everyone prepared for the ceremony at the same location is a wonderful way to spend quality time together and prepare for the rest of the day. If you have two or three mothers or grandmothers that wish to join you, as well as half a dozen bridesmaids and couple of flower girls, you are going to need a salon with ample room and all the services you require – from head to toe.
The last thing you want is to squeeze into a small space and then realize there are other clients coming in for their appointments, too. If you are going to a hair salon at someone's home then ask her – or your wedding planner – to arrange for the manicurist, anesthetic and make up artist to have a station set up elsewhere in the home. You can see how this has risks – other people's children, lack of parking, and too crowded may be some problems.
Choosing the Salon
If your budget allows, then book a full service salon for the morning on. You will need to make arrangements with the salon manager and pay a non-refundable deposit to have the salon to yourself on your wedding day. Be sure to ask about parking, tips, payment, group discounts and what is all included. You don't want to be surprised with extras to your bill. A high end salon will offer a light luncheon, but perhaps just a light snack around 10 or 11 would be better. You don't want food spilled or your stomach to get queasy as you head off to the ceremony.
Get everything in writing and read it completely before you sign. If you're not a 'details' kind of person, ask your maid of honor or wedding planner to read it and give you the 'in a nutshell' version. Decided then who is paying for what so there is no embarrassment on the day (for example, your six year old flower girl is getting her hair washed and curled and light pink polish. What is the flat rate for that and who is paying the bill?) Make a list of people's names and then put in bright pink highlighter what you are covering.
This time together is wonderful and exciting…when you have it all planned in advance it will ease your wedding jitters and make for some beautiful pre-wedding photos and memories, too.