Blog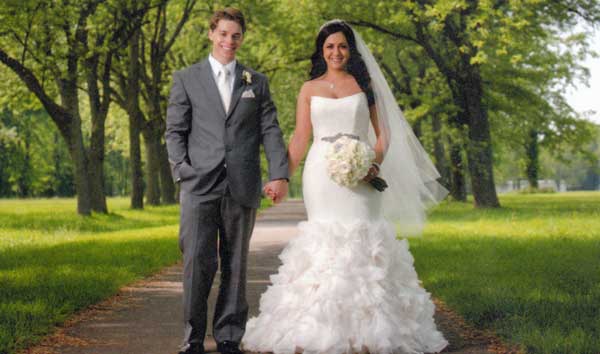 The only good thing about slush is it goes quickly and Spring arrives soon afterwards. While you're still navigating your way around puddles, think about Spring and how wonderful that it's not too far off now. It is a season of new beginnings – and it can be a beautiful time to have your wedding as you start a new chapter of your life.
Wedding Ceremony Ideas for Your Spring Wedding
Everything feels fresh and renewed when "spring has come"! You can plan your personalized wedding ceremony that takes all the elements of Spring to heart. When you meet with your wedding officiant, you'll want to customize your wedding ceremony so that it reflects you wishes and heart for the day, as well why not include a little 'Spring Fever' in the celebration?
A gazebo or archway at a park or even in someone's back garden is the perfect venue for a wedding in the season of Spring. Personally, I once visited a friend and saw her backyard – her husband and three children had made a beautiful stone and water feature. It was so striking that I asked and she graciously allowed my family to have our photos taken there. The stones and water made those precious photos so original and contemporary. Keep your eyes open for all kinds of outdoor venues for your Spring wedding – you'll never know what treasure may be in a friend or family member's back yard! Great for Photo Ops!
What about Spring flowers?
Azaleas, apple blossoms, daffodils, daisies, lilacs and roses are some types of flowers that really come to life in the spring. Fresh spring flowers will add so much to your décor, a little goes a long way and your local flower market or florists shop will be more than happy to help. They have so many ideas and ways to make events beautiful and interesting. Take some time to stop and smell the roses next time you pass a flower stall and you may come up with great ideas to bring spring into your wedding.
A local Farmer's Markets will be open soon as well. There you'll find lots to make your wedding ceremony unique and special – even organic! No pun intended, but it's a grass roots place to meet the flower growers themselves, not just an employee of a store. Ask about varieties of flowers they grow and if they have experience with weddings. Purchasing directly from a local farmer or grower will keep your costs down and you can pat yourself of the back for supporting local business and being green!
Spring in fashion usually means pastels, so if a white dress will completely wash you out after our long months of winter, look for dresses with a hint of color. If you're an nontraditional bride or this is a vow renewal, second wedding or similar, you can simply pass on a white gown and get an outfit in a spring color you adore. Mint green, blush pink, lavender or mauve, even ecru or beige can look bridal and elegant if the fit is perfect and you feel confident in what you're wearing.
Had enough of winter – can't wait until spring? Enjoy your Spring wedding as you make plan now!