Blog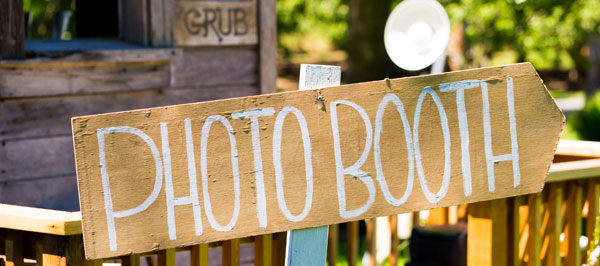 Why not have your own photo booth for your wedding day? Great fun, memorable pictures and your guests will be taking about it for years to come…
The Photo Booth at Your Wedding!
There are three main options for your wedding photo booth…choose the one that best suits you and enjoy!
You can rent a photo booth from a rental company for the day or for the reception – you will need to book this in advance and find out what is included in the fee. Does it include delivery, set up, maintenance, props, saving the photos? Plan to spend several hundred dollars, so be sure you know what you are getting for the fee, and have a contract in writing from the rental company.
The second option we'd like to highlight here is to set up a DIY booth – this is what was done at the wedding my family and I attended last weekend. It was an ipad on a flexible stand – it was set to 'photo booth' and took 3 photos of you when you pressed 'start'. There were props there – my husband chose the feather boa, my choice was the bowler hat – and we thought it was wonderful! The couple had screened off the back corner of the reception hall and the MC announced for everyone to take a turn when they were ready.
The final idea is to hire (or bribe/pay-in-kind) someone to run the photo booth – you could hire a photographer, but I think you'd rather the professional and his/her team was focused more on you. This is a great way for a young usher or junior bridesmaid to be part of the reception (and away from the bar!). A professional photographer may have an apprentice or intern that would come as part of your package. If you are going to hire a whole team, ask for one to be assigned to the photo booth area.
Weddings are becoming more informal and more fun, more interactive all the time – your guests now attend not as family obligation for a chicken supper and long speeches but to celebrate your personalities and to have a great night out with friends! Photo booths include everyone and make for great memories!