Blog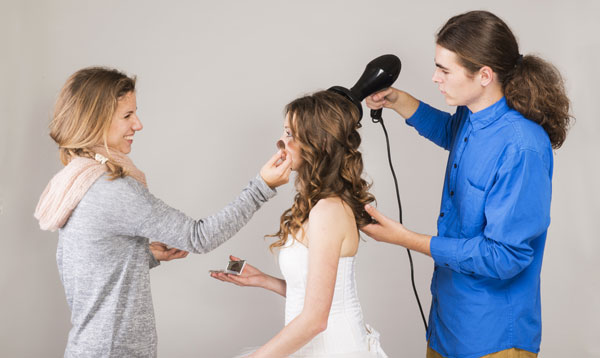 When a bride has put so much energy, thought, effort, time, money and emotion into planning one day, it can seem so overwhelming when the day finally arrives. There is so much to do – and one thing that will be done first thing in the day is your hair and makeup. One option is to meet at a salon with your bridesmaids, or have a team of professionals come to you at your home or hotel. Whichever your decide, give yourselves plenty of time to get ready in the morning, and be sure you have booked reliable and efficient people to do the necessary work.
Don't wait until the wedding day itself to work with a new stylist. A stylist you have been to before, even just a couple of times will know what you like and don't like. It is a great idea to visit your hairdresser beforehand and have a 'trial run'. Take your headpiece and veil with you, as well as the earrings you plan you wear on the day. You may go in to the initial appointment planning to wear your hair up a certain way, but then find you and your stylist find another way that works best with your accessories.
Bring photos with you to show the hairdresser – two or three styles will be an excellent way to start the appointment, and you will leave knowing that on the day you will be more than satisfied with the end result. What looks good on paper – or in print or online – may not suit the shape of your face or the neckline of your gown. Be open at the pre-wedding appointment to new styles and some changes, you may find the perfect hair that will flatter your style. Your hairstyle will be one less thing to worry about and decided over on the day.
If you are used to doing your own hair and love the way it looks, there's no reason to spend the money by putting yourself in someone else's hands. When Kate Middleton married Prince William two years ago, it was televised and watched by millions and millions on people around the world. She famously did her own hair and make-up. So if you want to DIY, then go ahead…your own world is watching, and you can dazzle like a princess.