Blog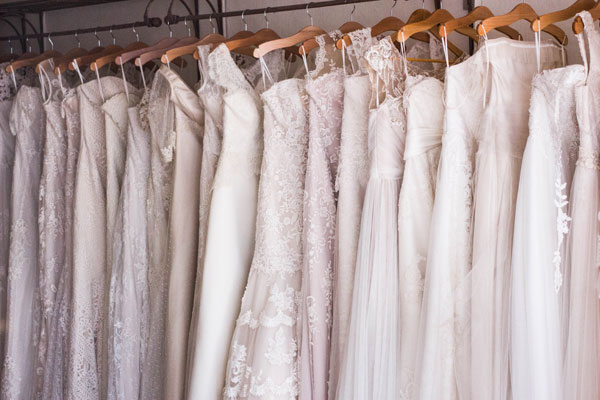 Finding a gown can be made much easier when you know your body shape and find a wedding dress that suits the body you have now. On the TV shows like "I found the Gown" and "Say Yes to the Dress" show the future brides trying on 3 dresses and then deciding. One of the reasons they only need to try a few dresses is because the bridal consultant can see the bride's body type and direct her very quickly to the style that will best suit her so she'll look her best on her wedding day.
Keep in mind that bridal dresses are notoriously cut small. If you are an average Canadian size of 12 or 14, prepare yourself mentally to try on sizes 20 or more. If you know this before you go into the salon, it will be easier to try on the dress for it's style, and not be freaked out by the size tag.
Wedding Dress Styles
The Mermaid – a mermaid gown is a super flattering choice for a woman with curves or a plus-size lady. It is one of the most sophisticated cuts that flatters your curves. If you are tall, it's a bonus. A mermaid style will make a petite girl look even shorter.

A-Line – this is a flattering shape for nearly all body types, especially if you want to cover up a tummy that's not your favourite part. If you have a rectangle shape, go for an A-line shape that will flow and make you feel fantastic, it's also known as the "Princess" shape for this reason.

Sheath – this shape is exactly as it sounds, straight up and down with no flow at the hem. It doesn't allow for any flaws, so if you are not confident about your body, this isn't for you. However, if you are petite with a small frame, a sheath dress will make you appear taller.

Empire style – these dresses have a high waistline that starts right underneath the bust. If you've seen 'Masterpiece Theatre' or 'Pride and Prejudice', then these are the Jane Austen kind of dresses. They are perfect for ladies with a small bust, and will gracefully skim down to the floor.

Ball gown – this may be your one and only chance to really wow the crowd and become Cinderella for the day. A ball gown has a natural waist, so suits curves and pear shapes, too. A ball gown will overwhelm a petite bride. Remember too that there are ball gowns that have trains for the church and photos, and then can be drawn up to a bustle or even detached for dancing at the reception.

Don't be afraid to find out your body shape, and then celebrate it! Broad shoulders look smaller in a strapless dress, a tiny waist can be shown off in a sheath, and ball gowns hide larger hips while letting you be a glamorous princess.