Blog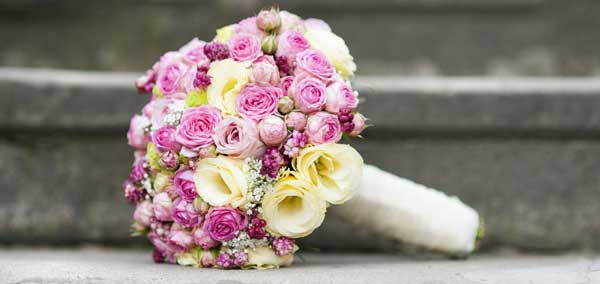 So much fun – so many choices: Colours, Style and Types of flowers to choose from! Where to start?
Although flowers don't fall into a 'wedding' category you may want to begin by considering what style of wedding you're having: Tradition, Formal, Classic, Contemporary, Outdoors, Cathedral, Themed (to mention a few). When choosing a Florist you'll want to have a few ideas to ask them about. Beyond the 'style' you may also want to consider seasonal blooms and local availability.
After choosing the type(s) of flowers, you'll want to match them with your colour scheme both of your Bridesmaid as well as any themed décor at your reception. Don't forget to consider the walls and placement at your venue (Yellow Flowers placed on a Cream-Yellow wall will do little to show off the bloom but accent a green stem – probably not the best choice). Your florist will often be able to show you a colour palette so your colours won't clash.
A Few Hints to begin:
Pick up a few paint chip/tint cards at your local Hardware store as you begin
Try starting with a choice of three colours before getting too involved with shades and tints
Try having at least one neutral colour to fit with anything and anyone (neutral will also highlight the other choices)
Of course your lighting impacts your presentation as well. Outdoor is most natural, but of course is limited to the day and so a few lights placed correctly will keep your flowers showcased all through the day and evening.
You'll also want to decide whether you'd like all live and natural blooms or would artificial work better especially in the off-season.
Over the next few days we'll consider some specifics for both your décor, your wedding party and of course the Bride's Bouquet.