Blog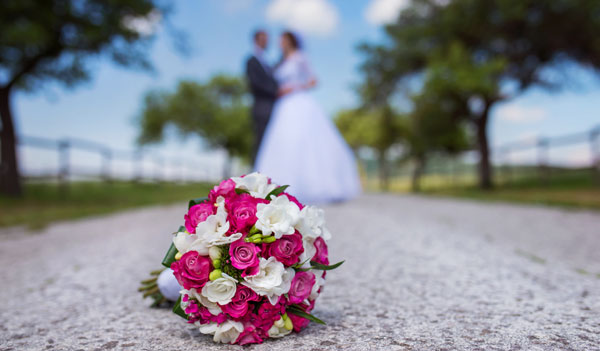 Spring is here! And although the weather may not be keeping up with the calendar, it's only a matter of time before flowers arise from their winter sleep and you'll be planning your wedding flowers for your spring or summer wedding. There's no shortage of ideas that will enhance your wedding day with flowers, bouquets for the bride and bridal party, boutonnieres for the groom and his men, flower arrangements for your wedding ceremony, table settings for your wedding reception, etc. And so, with so many options and varieties, where to start!
Before getting too deep in your flower choices, ladies, you'll want to choose your wedding dresses (and colours) first. Gentleman, may want to do the same, especially if they are sporting colours in a vest or tuxedo.
The colour of your ladies dresses is a major consideration in choosing and coordinating the flowers to match. Generally, the bouquets, ceremony flowers and reception arrangements are designed in coordinated colors. This will give your wedding day a unified feel and a theme.
As you continue to make your wedding plans, be on the look-out for colours, styles and varieties of flowers that will enhance your wedding day. If you're working through a budget, you'll want to know what flowers are locally in season. If you see flowers that appeal to you in a wedding magazine tear them out or mark the pages. Show these pictures to florists. This way they can see the type of wedding bridal flowers that you like.

Your Wedding Flowers
Here's a couple tips that might help make your decision easier when the time comes.
Pinterest: Post and add to your own personal wedding plans on Pinterest and of course, keep a unique board for each element of your wedding day, including a board for flowers. You'll be surprised how quickly it can grow with ideas. You can always showcase your board with family and bridesmaids and hear their input as well – Pinterest Flowers at Dream Weddings Canada.
Florist: Get to know a quality florist (preferably locally) who can serve your needs. Ask question, look for input and sometimes a deal. Ask to see photos. It pays to research. You may want to choose seasonal flowers especially when your budget is pushing its limit or for the sake of sheer beauty, celebrating the season you're in. This is often the case with the fall colours!
Wedding Planners: If your using a wedding planner, ask them for their input. They will often have a vast amount of experience of both the flowers themselves and how they will show throughout your day, especially in the warmer months of the year.
Although, it's but a day, it's the day memories are made of! And your pictures will capture your memories. Make sure they're colourful! As the 'Flower industry' says: "Say it with Flowers!"