Blog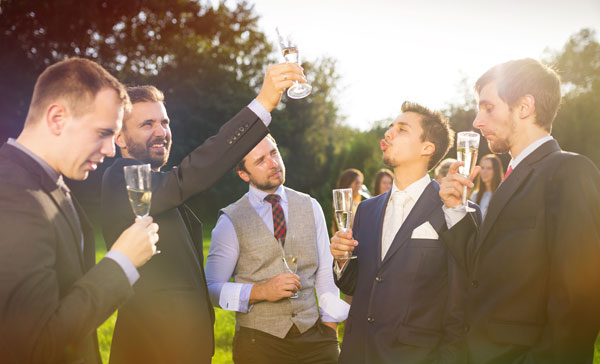 Celebrating your Wedding Ceremony with the Guys – The Best-man and the Groomsman! Guys are sometimes difficult to buy gifts for, so here are a few hints that will help you when getting the 'Thank You' presents ready for the men in the bridal party. Usually you pay back the service by standing up at a friend's wedding, but until then you can show your appreciation with a gift.
Wedding Gifts for Men
Fine Scotch – this is a classy, elegant and masculine gift that will be much appreciated by your buddies. You can give them in plain black gift bags, no card is necessary, just their name on the tag. Your local Wine Store will be able to guide you and show you different types of Scotch that will make the perfect gift.
Speaking of alcohol, an engraved flask also makes an excellent "Man Gift". These come in various options such as leather, pewter, silver and stainless steel. You can have each hip flask engraved with a personal note, but the initials of each groomsman are perfectly acceptable. These are often included in sets, coming with shot glasses or holders. Shot glasses, beer steins, and whisky glasses can all be personalized.
Cigars in fine wooden boxes make a great gift for men, although traditionally this is often done to celebrate the birth of a new baby, but there's no reason why it shouldn't be a celebration at a wedding. Fine cigar stores will be able to show you all the varieties available to you. Some fine restaurants and cigar stores have 'smoking lounges', where you can take your groomsmen for en elegant evening at "the Club". Think Masterpiece Theatre without the bonnets!
A great gift for your friends is to give them tickets to an event in the future – say a game or movie or concert that's coming up in a few weeks. Meeting up after the wedding will be a great way to re-connect and you'll have more time to just relax, rather than fitting for suits and making sure you have all your speeches done. Make it a 'boys night out' at somewhere like Shoeless Joe's or Boston Pizza on the night of a big game can be a great gift – and a memory they will be glad to make with you.