Blog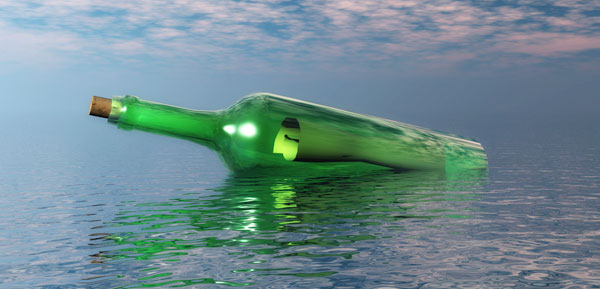 Summer is a wonderful season to have a wedding in, there are so many options for outdoor locations and many of your family and friends may not just come for the day, but make it a family holiday and reunion. If you are hosting your wedding ceremony or reception outside near the water, then there is a beautiful and interesting way to send out our wedding invitations to those close by.
Wedding Invitations
Message In A Bottle invitations are beginning a real trend at this time. The original idea many years ago was that a sailor or member of a ship's crew would finish his beer, write a little love note to his sweetheart, roll it up like a mini scroll, cork the bottle, and then toss it over the side of the ship, trusting the tide to take it to her. This seems romantic and a rather far-fetched notion of sending a sweet message, whatever are the chances of it reaching the right girl?! I guess before text messaging, people just had to be more imaginative.
There are a few options for message/bottle invites – from ordering hundreds ready-made at considerable expense, or making your own from recycled bottles. The new 'old fashioned' hourglass Coke bottles are easy to collect from a recycling depot – as have a 'bottle drive' amongst your friends! A local restaurant or cafe may be happy to help you out, too, to save them a trip.
Soak the bottles in warm soapy water to get the labels to peel off easier. As I've written before, when you have a rather daunting and monotonous task, turn it into a party. Set up a kiddy's pool for the label covered bottles, fire up the barbeque and play some fun music while you work. The Seven Dwarfs song "Whistle While You Work" comes to mind!
Once the bottles are clear of any paper, they need to be 100% dry inside. The tool for this is, unimaginatively, called a 'bottle dryer'. Borrow one from friends that bottle feed their babies, or get one for yourself from your local Dollar-Store. Failing that, just wait until they are dry in the sun – patience is a virtue, and you can work on your tan while you wait.
Next is rolling up the invitations and sliding one each into a bottle. This is not brain surgery, so get your little nephews and nieces to help! No lids are required – we assume you're not actually going to throw it over the side of boat. You can tie a ribbon in your theme colors around the bottle if you must, but there's really no need to embellish it too much. This Message in a Bottle invitation will stand on its own for originality and your guests will be delighted to receive it from you.