Blog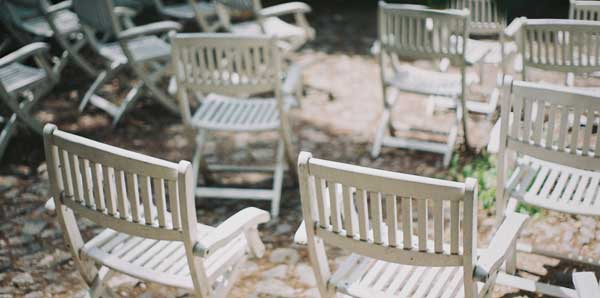 Once a traditional pre-wedding logistical meeting followed by a sit-down meal, rehearsal dinners, like many aspects of the modern wedding, are less formal these days. The main reason is to mingle both sides of the wedding parties after you've done the run-through at the ceremony sight.
Of course we often hear as wedding officiants that many couples are not having a formal rehearsal, rather a much lighter party along with some instructions to the wedding party about their wedding ceremony. This is great! It's time to celebrate! But if you'd still like to have a rehearsal …
Wedding Rehearsal & Dinner
Traditionally this was the groom's parents department – they planned and paid for the rehearsal dinner. Communicate with parents and future in-laws about this part of the wedding, and then decide together where and who's footing the bill. If you're planning your wedding rehearsal dinner, a restaurant or even your venue will probably need to be booked four or five months in advance, and you'll need to confirm a final head count a few days before. If you want something less formal, ask the groom's family to host a barbeque or potluck at their home – anytime of year will work to get friends and family together the night before for a meal!
The three key components for your rehearsal dinner – whether you choose formal dining or a family picnic, are as follows:
Meet and Greet – the wedging couple should stand at the front door to welcome all the guests. Tomorrow (your wedding day) you will be so swamped and overwhelmed – in a good way – that this is the time to greet each visitor personally and thank them for being a part of their special day. Guests that travel from out of town need to feel welcomed by the bride and groom, after all, you're the reason they came!

Gift Exchange – this is the time to give out the gifts you've chosen for your wedding attendants. After the meal, stand together and take turns thanking each of them for standing with you, for being there and for their friendship over the years. Unless you have it arranged for the wedding rehearsal, now is a great time to give flowers to your mother or grandmothers, or a special aunt or lady in your life who has been like a mother to you. If you have any others directly involved in your ceremony (special readings or music), this is also a great time to thank them as well.

Reminders and Expectations – before everyone is dismissed, synchronize watches! Ask people to get out their phones and put a reminder for wake up and meet up. There's always one person who will say "Oh I thought it said 2:30, not 2" or "Oh, that church! I had St Andrew's and St Anthonys mixed up!" Do a very quick walk/run through – not longer than 10 minutes or people will tune out – they honestly may be suffering from "wedding overload" at this point! So a quick reminder and then thank you for coming, see you tomorrow!
Of course, if you would like to have your wedding officiant serve you for your wedding rehearsal, please do let them know. At Dream Weddings Canada we consider it a privilege to help as you both plan your personalized wedding ceremony and execute the perfect wedding!