Blog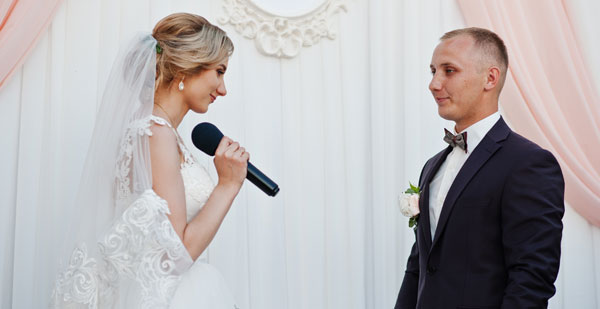 I'm sure many of us can recall an occasion including a wedding day where someone making a speech made a fool of themselves or embarrassed some members of the audience. It is so incredibly uncomfortable for the people listening to watch a speaker be foolish, ill prepared, or worst of all – inappropriate. Some people get very nervous, and it shows with stories or ramblings or words that do not suit the occasion. Remember, this is a wedding of good friends surrounded by loved ones, not a political roast!
Make Your Wedding Speech Amazing!
If you've been asked to give a speech at a wedding this year, here are a few tips that will help you carry off your task with grace and maturity…two things every public speaker needs in their repertoire!
Prepare, Prepare, Prepare. Half the job is done if you have the notes ready and have read them over – aloud to yourself or your mom, aunty, the wedding officiant – a couple of times. Even if you are used to addressing a classroom or boardroom, a wedding is another occasion altogether. Have your neatly written notes handy – or typed up on your phone (on vibrate, obviously!). Don't wing it – notes are key.

Keep your audience engaged with funny and touching stories – again, appropriate. Many guests will be feeling emotional, so don't be afraid to bring up those feelings. For example if the bride's mother has passed, you can start with "I'm sure Mary's mother would be so proud of her beautiful daughter today"…

Short and sweet. This is not the time to wax lyrical and bring in your opinions about anything…you aren't running for public office. Keep it to less than 5 minutes. You don't want to hold up the proceedings and be remembered as boring. Better too brief than that.

There's no such thing as "Dutch courage" for a speech giver! Treat yourself to a drink or three after you've done your part for the couple – don't indulge beforehand. You may think drink makes you talk more freely or be more relaxed – but it will come across as crass and thoughtless. Stay sober until you've toasted the happy couple, then head over to bar to reward yourself for a job well done.