Blog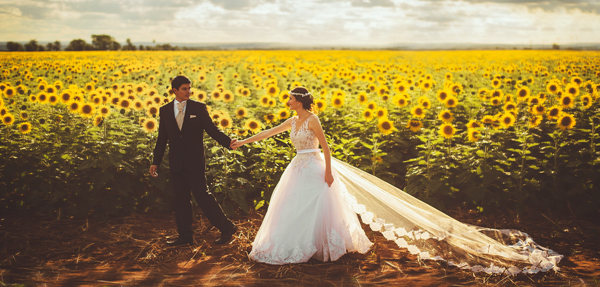 The Top Ten Must Trends for Planning your 2017 Wedding
The Dress
Always a Priority!!! The 3D floral details are still in full bloom, but be prepare to bare it all with plunging V neck lines for the bold, skin baring style seen in designs by Marchesa, Oscar De La Renta, Lela Rose and Kenneth Pool. Baring your shoulder with sleek lines and oversized bows will also be trending this bridal season.
The Crown
Head pieces are super hot this season with crowns and halos but not tiny-like the 80's and 90's. This year it's all about the real presences making a true statement, from a high crown to a boho style halo of crystal shimmer.
The Bridal Party
Your ladies should sparkle as well with gold, silver and metallic beading, but gone are days of the champagnes and neutral tones. This year the focus is on the deep jewel tones, with brilliant yellows, bold oranges, plums and deep greens that are mixed and match styles with breezy silhouettes and airy skirts.
Colors and Décor
Pantone named greenery the colour of the year – it's vibrant and earthy, making it perfect for all seasons. It is a symbol of our re-connection with nature, so expect to see shades of green in everything from floral to linens. This au naturel trends allows us to bring nature indoors to convert ballrooms to an outdoor oasis. Prepare to see potted trees and wood and stone accents to create a forest look. Top must have flowers this year are garden roses, dahlias and the peonies.
Dangling décor and suspending flowers with stringed market light lines for added abundance creates an added height features bringing your guest attention to look up. Tables will still see tall centre pieces offer with lighting, and the addition of jewel toned garden blooms or wild flower look with greenery. Along with deep tone fabrics topped with laces to add romance. Napkins are being showed as a drape knot laid across plated with vibrant coloured glass wear. Ladies don't be surprised but black on black for table wear is another huge hit in 2017, adding a hue of mystery with the deep jewel tones.
Wedding Invitations
The Plexiglass, foil stamping and glow in the dark is hot trend for 2017, however for a romantic classic look encases bold floral and classic china plate print background with a modern laser cut finish and keeps to the au naturel themes this season.
Reception Line Details
The traditional reception line are gone and a new informal look has been adopted this year, with trends being the innovative escorts cards, like cards displayed on champagne glasses and wedding boutonnieres being a variation of differing gifts that guests can choose what they want. Adding au naturel feel with edible gifts, boxed tarts and biscuits too.

Favourite Food
Trending this year is a theme of yum and fun. Favourite eats and local treats, with interactive stations. Depending on your location, the trend is to focus on a locally inspired menu. Late night bites for your guests to keep their energy up for a night of celebration suggest build your own personal pizzas, taco bar, poutine station, cookies with milk shot glasses. The traditional sweet table has been replaced this year to a multi tier table with plexiglass cases with flower inserts topped with translucent or naked cakes and a full-service sundae station. But for those that love the new hot must have a doughnut wall is a necessity, and the wedding cake replacement your guests will thank you for, as nothing says love like a wall covered in donuts.
The Drinks – Open Bar
Let's take the traditional open bar to a down to earth feel with a Scotch, Whiskey or Beer bar taking centre stage. Depending on your venue a classic wine selection is also an option.
Photo Opportunities
The days of the old photo booth are gone. New inspiration keeping with the au naturel, forest oasis theme replaced the photo booth with a floral wall. Perfect for the bridal party and guest to set into a silhouette of a mini garden vignette. Lounge seating with rustic rope swings are a big hit this year. It adds to the au naturel décor look of the season while allowing guests to be in motion while resting their toes, as well as great photo opportunity.
Social Media
A must is planning the potential hashtags for your wedding so that you can capture all the meaningful moments of the day and night.
Entertainment
Multiple hot trends this season with focus on music, and live interactive performance, depending again on your venue, indoor ice skating performance, or dance routine.