Blog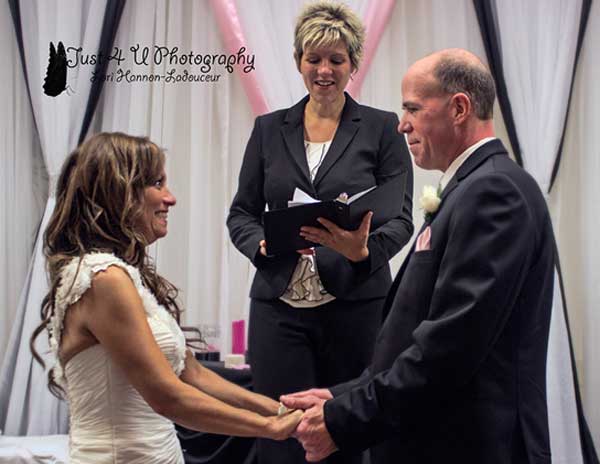 Your vows (or promises) to each other may just be the most important words you ever say. Saying that, there's really no right or wrong words and style to express your love and commitment to each other on your Wedding Day! Whether you write your own, speak from tradition or take ownership of something you've experience at a friend's weddings, the one thing most Brides & Grooms agree upon; they want their vows to reflect themselves.
Key # 1: These are YOUR vows and so they should reflect what you really want to say to each other. Although traditional vows have been shared for generations and do have a uniqueness about them that kind-of fits most, they may not reflect you and your style. Many couples spend time with each other writing out what they sense is important and worth sharing in their own unique style.
For those of you who have booked with Dream Weddings Canada, we also include a resource to creating your own vows making them personalize to you.
Key # 2: Many couples would love to memorize their vows and simply share them as is they were talking alone with each other. However on the Wedding Day and in the midst of your ceremony, being watched by perhaps a hundred or more of your closest friends and family, the idea of memorizing is probably not the best way to add a little tension to your day.
And so, may I suggest one of two other and more effective ways of stating your promises to each other. Probably the most comfortable way, would allow your officiant to share them as a 'repeat after me' with partial or complete sentences, slowly read. 'Repeat after me' also allows you to hold each others hand, while gazing into each others eyes. Very Romantic!
If on the other hand, you feel comfortable and can brush back a few tears – enough to see, create small file cards with your words printed neatly on them and simply read them to each other. A note, it's always wise to have a second set of these cards in the hand of your officiant before the ceremony, just in case.
Key # 3: Although your 'Vows' are your promises to each other, they need not be limited to a series of commitments, but as you make them uniquely yours they are a great opportunity to share special moments of your journey thus far, i.e. Your first date, the moment of proposal, a special event within your engagement, etc. Feel free to insert a favourite reading, the words of a special song, a brief and classic poem. There's really nothing stopping you to make these words unforgettable.
At the end of the day your wedding ceremony is all about you. Don't miss the opportunity to exchange your own personalized promises to each other . . . and of course have fun in the midst of writing and sharing these special thoughts together.