Blog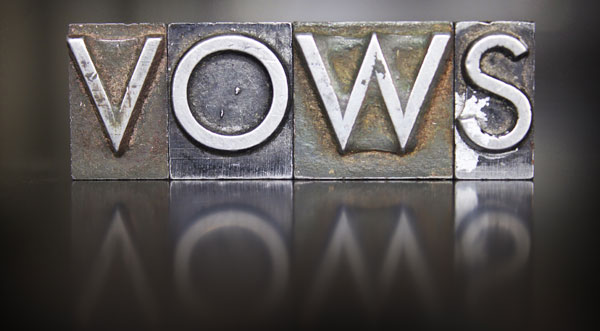 The wedding vows you share on your wedding day at your wedding ceremony are the serious, ceremonial time when you and your groom promise, before your guests, family and friends, to not just love each other, but to be faithful, loyal, trustworthy and supportive until you are parted by death (generally, that's the plan). Sadly, many wedding officiants won't even offer the opportunity for couples to create or customize their own! Over the past few years there has been a trend for brides and grooms to write and personalize their own wedding vows.
In recent times, it has become popular for couples to write their own wedding vows, and this can be a way to personalize what you mean to one another. However, it's not the time for jokes or flippancy (natural humour is OK) – that's what wedding reception speeches are for! Jennifer Aniston vowed to make Brad Pitt "your favourite milkshake"…and we all know how that turned out. Less cutesy, more commitment is what's required for your personal vows.
You're also welcome with Dream Weddings Canada to ask for help or input from your wedding officiant. They've pretty well heard it all! And of course would love to have you share the words that mean the most to the two of you. We do really do believe the wedding ceremony is all about You!
Look for inspiration in your favourite songs – often reading through the lyrics will help you put into your own words not just how you feel now, but what you want to make the other person feel for their rest of your lives. Traditional wedding vows, the ones that say "for richer or poorer, in sickness and in health, forsaking all others" may be an excellent place to start. You may want to incorporate many of the sentiments in these time-honored words, just making them a little more modern and not so Olde English sounding.
Your Wedding Vows
Three considerations that will help you put onto paper what you are trying to say are…
Why are you getting married – what is the core reason behind this public step? Like I said, not the moment for flippancy, but muster up all the sincerity you have and say it with real heart and commitment.
What do you love and admire about your partner? You can add personal things here, like "you make me laugh" or "you have beautiful eyes", but also add things of substance, such as "a gentle nature" or "someone that I can trust to be there for me".
Start early to avoid stress – if you are a natural procrastinator, now is the time to really make yourself get something done early. Ask someone you trust to hold you accountable to having words onto paper.
Once you have the words outlined, fill in and print them off. Ask someone to read through them, timing it…. you'll be surprised how half a page only takes half a minute or less to read through. You don't want page and pages, but you do want a sincere effort and to take the time to appreciate the solemnity of the moment.
Have fun creating and sharing your wedding vows within your personalized wedding ceremony.