Blog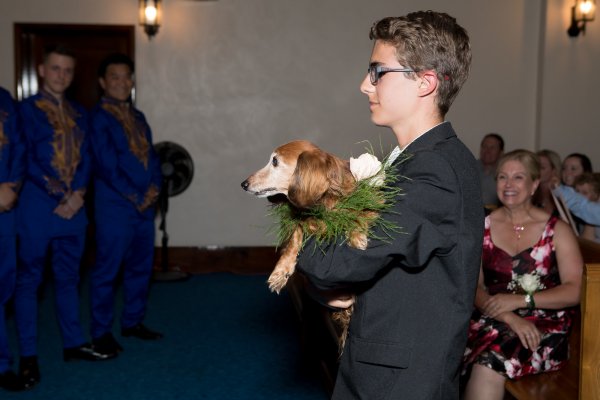 Fury, Cuddly and Cute – What else can you day about your other love? Cats and Dogs make amazing friends, and as well amazing Ring Bearers, or just simply colourful wedding attendants. But before sharing the spotlight with your amazing pet, there are a few factors you'll want to consider to ensure your wedding ceremony as a real hit with your family and friends.
How does your pet do with strangers?
After all, walking down the aisle is sometimes challenging for the human factor, and so it's always wise to make sure your pet won't flee the scene out of fear or distraction. If it's a dog you have, you'll want to make sure they are good with people (and possible children) when in the midst of the crowds. As wedding officiants, we often see wedding pets share in the ceremony – sometimes leashed, sometimes free – you may want to test out the situation (possible at a wedding rehearsal) first.
Does your wedding venue allow and welcome pets?
You'll want to make sure as your booking your wedding venue (especially for the ceremony) they actually allow pets within their premises. If it's outdoors, most do – but you'll need to consider the indoor rules, in case of rain. You'll also be responsible for any 'pet' clean up needed on the property as well.
What about your guests?
You'll want to check your guest list to make sure no one has allergies to your pets. Again, in the outdoor wedding ceremony, this may not be a significant issue, but once indoors, it may! There's also the 'fear' factor for some as well, including children. If you sense an concern or issue, it's always wise to check with your guest first.
Having your pet cared for following!
Most couples are thrilled to have a few special photos with their canine or feline friends – Wise to pre-arrange that time with your photographer first. But what happens next? As the bride and groom, you'll be probably taking pictures for the next hour or so, only to rush off to the wedding reception, where your guests await.
You'll need to arrange dog/cat sitting to follow. If you live close enough to your wedding venue, you can a friend or family member take pet(s) home. If not, you'll need to arrange some 'pet-sitting'! Of course, never leave an animal in a vehicle (even for a short time) in the summer sun.
Having your cat or dog share in your special daycan fun and provide some amazing photo oops! Just remember it's a little more work to care for than the rest of the wedding party (although they never talk back or complain)!