Blog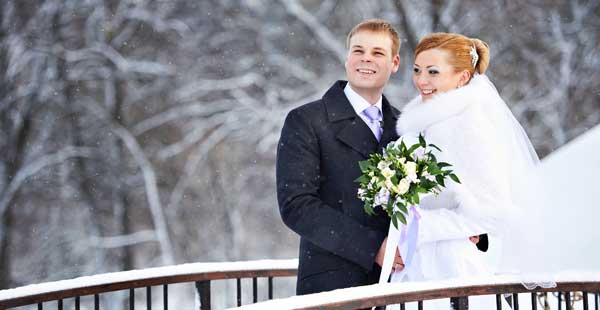 When I grew up… in the West Coast where it rained all the time, (sometimes for eight or nine months – at least it felt like that) of the year. Folks that have moved to that part of British Columbia from other parts of Canada would always say "well, at least you don't have to shovel it" – referring to all the snow they had seen every winter. Snow in winter is beautiful, and can make for a gloriously beautiful wedding backdrop, as long as you don't have to shovel it. You can incorporate winter into your wedding without the unwanted elements – like trying to get your car out of a ditch or dropping your keys in a snowbank because your hands are numb.
A warm fireplace to gather around and hot chocolate or mulled wine to sip as your guests make their way to their seats can be a wonderful welcome to the ceremony sight. With winter travel, you will probably want to have the ceremony and reception at the same location…perhaps an indoor/outdoor rooftop gazebo with braziers for the official part, then a hotel ballroom for the dinner and dance.
Your Winter Wedding
Many venues decorate for Christmas between the months of November and January, and this can really help with your theme, decor and photo backdrops. Be wary of adding any red and green, this can make your reception look more like an office party. Try for colour combinations like red and white, silver and gold, blue and silver, or green and white. If you see a garland or tree at the hotel that would suit, ask to have it available for photographs or as a centrepiece for your table.
A wedding planner and reputable florist can work together to make your winter wedding spectacular. You may find they have ideas and props that will look classy (like a set of white deer) not too cheesy (like the 5 foot Santa holding a basket of beer that your brother wants to bring!). Don't be put off by the colder weather, friends and family will bring plenty of warmth and a good venue will make the day merry and bright.