Blog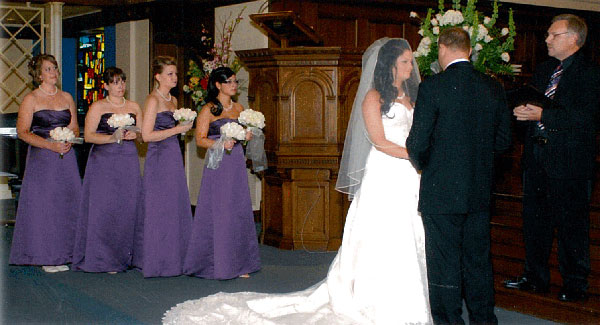 Although you may be a little nervous on your wedding day, one of the greatest gifts you can exchange with your spouse is the Wedding Vows in which you share with each other! Nothing wrong with traditional or formal vows, but as wedding officiants, we are observing more often, couples love to write their own wedding vows for their special day!
Writing your own Wedding Vows
Writing your own wedding vows to one another has become almost expected in contemporary weddings these days. If you choose to write your own words of promise to one another, there are a few things you need to consider beforehand.
Clearance – when you meet with your Wedding Officiant, discuss saying personal vows. Some religions may require you to include a certain phrase or even stick to the traditional words of that faith. Either way, it's always wise to bounce them off your officiant first – they'd be happy to help you phrase any of your thoughts and encourage you to share your love to the world, just the way you'd like to.

Use your phone – when you're waiting for the dentist or your lunch date is a little tardy, get out your phone and add words to your page. I find the best way to write a long passage is to start with 'bullet' points, words that will trigger longer and better ways to articulate your initial thought. Thesaurus.com is your new friend – don't just say 'love' when you can say 'adore' or 'cherish'! You'll find the right word there.

Logistics – how, when, who, what…all those 'newspaper' questions you learned in Grade 5 are what you need to think of next. Will you write your vows together, or read them together? A lovely wedding I attended this summer had the bride and groom read their own words separately, then together they recited the more traditional words. It was a beautiful combination.

Set another date – a date when you will have your final copy done and done. It goes without saying that the procrastinators among us will put things off, even important things that we want to do, until the last minute. Make yourselves choose a day and time to have the wedding vows written, and then reward yourself for a job well done.

Practice Out Loud – seriously, in the mirror! Time it on your phone from start to finish and see how it flows, are you repeating yourself or is there an important part you've forgotten to add? Is it too short? Remember the solemnity of the occasion, and brevity may be called for, but too short will look flippant.

Don't worry about Plagiarism… Nobody is going to sue you! Pick lyrics from your favourite song or a passage from poetry, even a line from a movie if it's not too cheesy (saying "You complete me" is nice, but now is probably not the time if you don' t mean it to be amusing").
We hope these few tips will help you if you choose to write your own wedding vows. I'm sure whatever words you choose will be just perfect!