Blog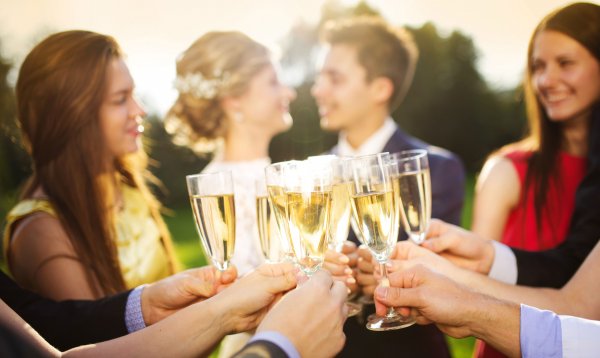 Your wedding ceremony was amazing, the dinner was delicious and now it's time to Stand up and share your wedding speech and perhaps invite your guests to join you in a toast! Are you ready? A little nervous perhaps … If so, you're pretty normal. Here's a few ideas that just might help you relax, stay calm and of course look like a genius as if you've spoken to crowds all your life.
Writing Your Wedding Speech or Toast
First, consider to whom you are about to toast. Although your guests will be listen intently, the real recipient of your toast is the person you're toasting. If is a friend, a peer or is it you're parents, or even grand-parents. What do you think they would love to hear you say? How might they except you to talk, your language, etc. This may simply be called sensitivity. To a friend, you'll probably want to be easy going, and your language will fit more of your times together, while your grandparents will probably be used to more of formal and traditional Thank You.
Secondly, you'll want to write out your wedding speech or toast. Don't feel you have to read it word for word (although you can), you'll at least thought through each point, story or reference you'll want to make. This is especially true of your Thanks includes a number of people. After all, it's always embarrassing to forget someone and then have to go to them afterwards and apologize. You'll also want to (as you begin) highlight the relationship: ie: best friend since kindergarten.
Thirdly, be sure to include an obvious Thank You as some point during your speech. It need not be long, and can be as simply as Thanking them for sharing in your day – letting them know how special it has been to have their presence.
Next, don't forget to share a story or two. Rather than create a joke, allow the story be humorous or interesting as it relates to both your relationship with them, or possibly as it relates to your wedding day. Stories are great ways to begin and end a speech. In either case your stories (especially at a wedding) should not really embarrass anyone, and should leave people encouraged and positive. Offer compliments and appreciation.
Lastly, if public speaking isn't your full-time job, practice 'speaking' your speech. And if possible, bounce it off of a trusted friend. Ask for their feedback and if needed, tweak it a little.
Here's to your wedding day and making you look like a star as you share your wedding speech!