Blog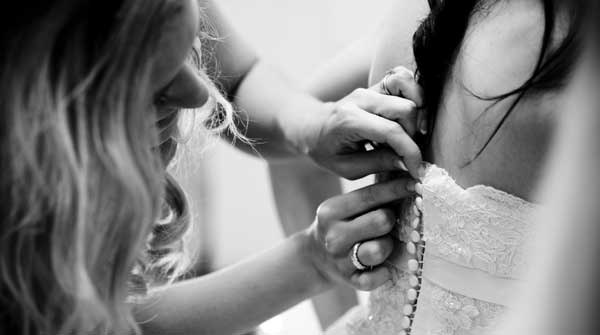 The founder and CEO of Holiday Inn once stated, 'The best surprise is NO surprise at all!' And on your wedding day, NO surprises works extremely well. That said, after officiating hundreds of weddings each year, we have come to conclusion that the famous Robert Burns quote may also apply, 'The best laid plans of mice and men often go astray.' Well, he was sure to NOT have blamed the bride – smart man!
With just a little preparation and planning un-forseen realities, surprises and even emergencies can be cared for sometimes before they even become known, beyond yourselves as the bride and groom! We've put together a list of items hopefully you'll never need, but real good to know it's there just in case. It's kind of like having insurance – Nobody ever wants to use it, but it can be a life-savor if needed.
As wedding officiants we actually have a short list of items as well! Simple things like a pen (often no pen is available for the signing of license table), a lighter (how often has an air conditioner or the gentle breeze blown out candles for a Unity Candle ceremony), a copy of personal vows (may surprise you, but brides and grooms do forget these things) – just a couple of items we've found to be helpful.
Now, back to you! As busy as you are on your wedding day, this list needs to be cared for by someone you trust and will be close by when and if needed. Perhaps a parent, a close relative, the spouse of someone within your wedding party is where we'd suggest too begin asking. Then after accumulating these, pass them off to that person and know they're in good hands, just in case.
Wedding Day Emergency Kit
Most of these items will fit altogether in a small plastic tub, and will be easy to carry . . .
Stain removing towelettes. Removal of stains from anyone's clothing – want them to look their best for pictures.
White chalk. A Bride's dress best friend.
Static guard spray. Just in case you find your clothing on static-cling mode.
Safety pins and straight pins. Great to have a couple different sizes. They can come handy on any torn hems and seams and they work well for pinning corsages (Although the flowers should arrive with pins, they sometimes don't or they have been lost in transit).
Duct tape in white. Sounds a little odd, but as we know 'duct tape' fixes everything, small, large and even heavy!
A spare pair of hosiery. Don't need to show off any runs today.
Wet wipes. You're going to be 'shaking a lot of hands' today! Nice to stay clean.
Tissues. Nobody plans on crying . . . but!
Small makeup kit. Just touch-up perhaps will be needed throughout the day.
Deodorant. Not you – after all, you'd never sweat!
First aid kit. Great for a small cut or a blisters from new shoes.
A cold pack. Especially for summer outdoor weddings. Beyond yourself, you may want to keep a small amount of these available for your guests. Don't want to have anyone passing out on you. (Need to see what actually happens check out this video clip from out blog – full of laughs, but wouldn't be if it was your wedding).
Gum & Mints. Besides shaking of hands, you'll probably be sharing a few kisses throughout your day.
Perfume. Stay fresh and pretty all day!
Aspirin. Don't want a headache on your wedding day.
Phone numbers. Keep a list of the phone numbers for all your service providers for the day. Include emergency numbers for the florist, disc jockey, bakery, caterer, photographer, officiant and any other services you have contracted with. Just in case something goes wrong you can easily get in touch with the right people when you need to.
Hair dryer. Both for your hair and if needed a quick dry for clothing.
Sewing kit. A loose button, a small tear, etc.
Nail glue. Only if you're wearing false nails.
That should be sufficient with the hopes all of these will never be needed, but you'll be ready just in case!