Blog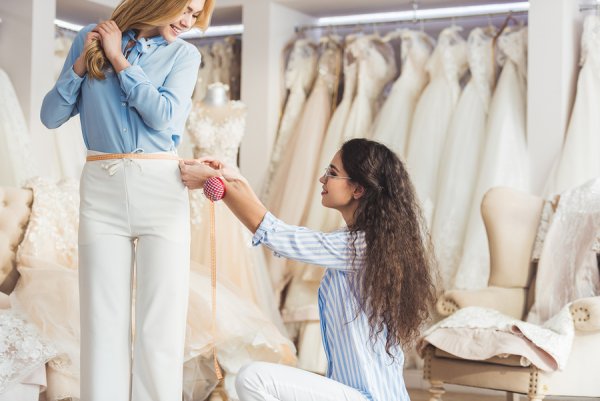 Sometimes the day after the Oscars or Grammy Awards, you'll see online the sketch done by the designer for a gown. When a designer creates a gown for an occasion, that gown is called a "couture gown". Alexander McQueen and Valentino are two highly acclaimed fashion houses that make one of kind wedding dresses. The late great Mr. McQueen designed Kate Middleton's (and Pippa's maid-of-honour) dresses.
Now, unless you're like Ellen and think you're Kate's cousin, you won't be having your dress created by Chanel or Cavalli, but not to worry. In every town and city there is a seamstress ready, willing and able to make you the gown of your dreams. A one-of-a-kind dress that will fulfill all your wishes and make you look exactly how you envision.
Your Wedding Dress
Here are three helpful hints to getting that gown from an idea in your head, to paper, to reality:
Procrastination is not an option. A couture dress takes from five to eight months to complete, and that's with several people working on various parts of the gown ie) cutting the material, sewing on the individual beads, making it fit your body perfectly. The longer you leave it, or the more adjustments that need to be made, the fees will increase if it becomes a rush order.

Make sure your seamstress has exactly the same vision as you do. You can't walk in and say "I want something flowy" or "I like lace". Vaguesness leads to disaster! Make an appointment for an intial consultation, and prepare to answer questions like "what shade of white are you looking for?" and "where do you want the waist to sit?". Lay out all of the photos and pages from magazines that are relevant, and plan to make lots of choices!

I once heard a bride say "oh, it's just cheaper if my friend makes it for me" and I shuddered. Having a gown hand designed and sewn, even if it's at a friend's house rather than a fashion designer salon, is an expense. Be prepared to spend more than if you found your wedding dress at a store. When you find a gown at a store, the tailoring to make it fit you perfectly will cost between $200 -600 or even more if you require many changes. Plan to spend thousands, not hundreds. Now, if your grandmother has offered to make it for you, and you love the other gowns she made for graduation and other brides, her time may be a gift. Offer, even insist, on paying for the materials, and be sure to honor her in your speech at the reception with flowers.