Blog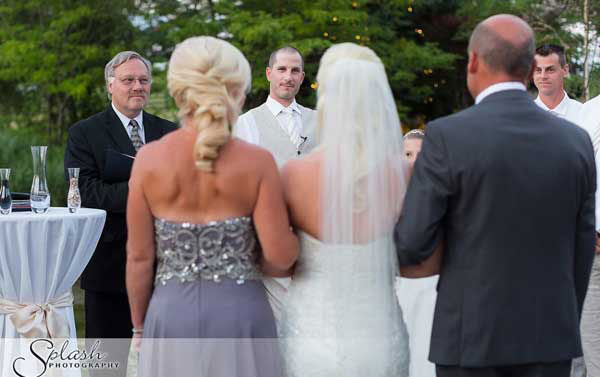 Choosing Your Wedding Officiant
There are several terms for a Wedding Officiant – the man or woman who stands before you while you exchange rings and vows and then has the pleasure of pronouncing you "husband and wife". Traditionally this was done in a church by an Ordained Minister or Reverend, or under the chuppah by a Rabbi. Now that many people choose to be married outside or without an overtly religious ceremony, wedding officiants can be from outside of the recognized church.
Justice of the Peace is the term most associated with "shotgun" weddings from the Old West…he was usually doubling as the Sheriff or local doctor. Sometimes there would be a minster that had a 'circuit route', meaning he rode his horse from village to town to hamlet, conducting baptisms, weddings and funerals as needed.
How to Get Married in Ontario!
Your Wedding Officiant Must be Legal in the Province, No ONLINE' Officiants in Canada!
These days you can look for a Wedding Officiant online under Marriage Celebrant or Officiant. In the Province of Ontario, he or she must be registered and licensed with the Province to provide you with the legal binding agreement of marriage. If you have a relative who is licensed in another Province (say for example your father is a minister from British Columbia and you have both always wanted him to conduct the ceremony), you will still legally require a licensed Marriage Officiant from the Province at the wedding.
Dream Weddings Canada accommodates these officiating guests, most recently we had a grandfather from Alabama, USA perform the ceremony for his grandson and new granddaughter-in-law. The grandfather wore his ministerial robes and conducted nearly all of the ceremony for the couple, much to their delight and that of all the guests. Dream Weddings Canada provided a wedding officiant to make it legal, by simply adding a few of the required words at the end of the ceremony and signing the documentation. Book your Free Consultation Now!
Two witnesses are required to sign the Certificate of Marriage. These are usually the Best Man and the Maid of Honour. If you want to be traditional, then have each father sign as witnesses. My parents' had four witnesses sign, all four of their parents. My husband and I required two signatures, so we had our dads sign for us in the church. Your wedding officiant cannot be one of the witnesses, so if you are eloping, be sure to have two people at the ready! Matt Damon and his wife Lucia 'eloped' to New York City Hall, and one of their witnesses came down from his office to sign for them: the late great Mayor Koch.
Once your wedding license is signed, it stays with the Officiant who mails it (yes, snail mail) to the Office of the Registrar. At the end of the wedding ceremony, you'll receive your wedding certificate ensuring your marriage is legal. Having a Wedding Officiant takes care of this detail which is nice to have off your mind, so that you can enjoy your honeymoon hassle free.